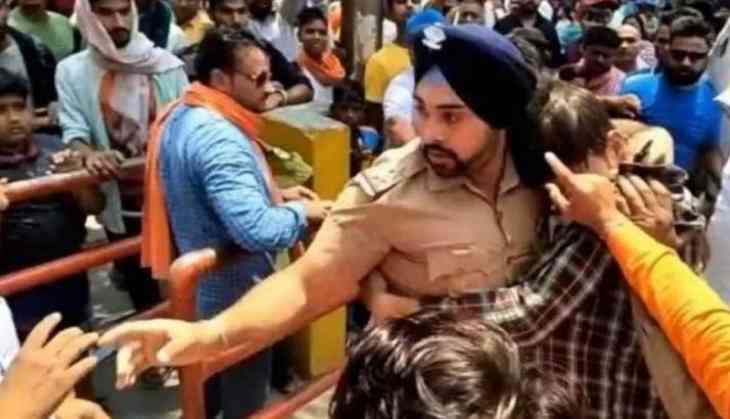 The thing that happened in Uttarakhand's Ramnagar, we want to see more but it is rare to witness. A brave Sikh police officer saved a Muslim youth from a violent Hindutva mob, who attacked him after he was found in with her Hindu girlfriend at a temple near Ramnagar on Tuesday. The video of the brave police officer is being widely shared on Social Media and he has become the hero of the country.
The Sikh police officer, identified as Sub-Inspector Gagandeep Singh, got a few alerts indicating trouble in the area. As soon as Singh got the alert, he reached the temple and acted as a shield for the man when the crowd tried to thrash him.
According to Hindustan Times, the incident took place near Garjia Devi temple in an isolated area, about 15 km from Ramnagar town. "The youth had gone to meet the girl from Hindu community, who is his friend, according to the police," said the report. The report further said the locals caught them, and later called members of Hindu right-wing organisations who started thrashing the youth.
India: A courageous Sikh police officer saves a Muslim man from being lynched by a mob of fanatic goons in Dehradun citypic.twitter.com/Mc1GC8DumI

— Harjinder Singh Kukreja (@SinghLions) May 25, 2018
Bharatiya Janata Party leader and Lok Sabha MP Parvesh Sahib Singh Verma wrote on Twitter: "A Sikh cop posted in Ramnagar, Uttarakhand restored faith in humanity after he saved a Muslim man from a mob attack. Kudos to this officer, you are a true hero!"
In the video, it can be seen as the mob tries to thrash the man, Sub-inspector Gagandeep Singh confronts the crowd all alone and protects him. But when some angry activists started shouting and assaulted the youth, Singh shielded him by embracing him and taking the blows from angry activists," it reported.
"Five of the attackers who are clearly visible in the video have been identified by the police and have been booked under relevant sections," the ADGP, Ashok Kumar said.
According to the report, the police department has also announced a reward of Rs 2,500 for sub-inspector Gagandeep Singh.
Meanwhile, former Supreme Court judge Markandey Katju tweeted: "It was heartening to see on Youtube the videos of a brave young Sikh police officer, Gagandeep Singh, saving the life of a Muslim youth who may have been lynched by a frenzied Hindutva mob had it not been for the courageous intervention of Gagandeep."
Later, the Muslim man and his girlfriend were then taken to a police station. The girl was sent home with her parents.
Watch the video here:
Also read: Modi government completes 4 years: BJP chief Amit Shah says, 'Mayawati-Akhilesh Yadav alliance will be a challenge for BJP in 2019