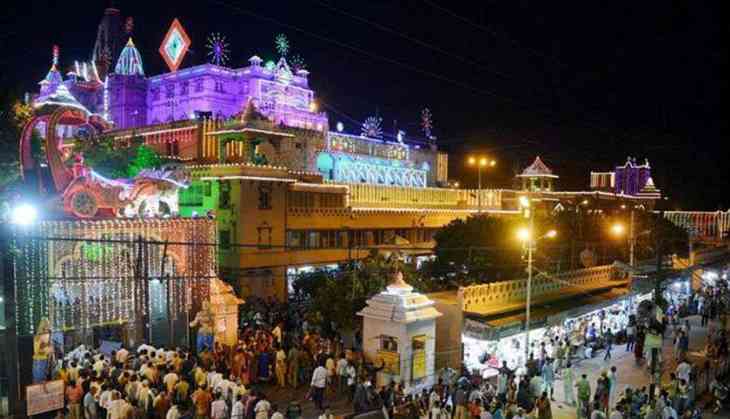 Hindu festival of Krishna Janmashtami, which falls on the eighth day or the Ashtami of the holy month of Shravana, marking the birth anniversary of Lord Krishna, was celebrated with great fervour here on Saturday.
This is a festival when devotees from all over the world head to the holy city of Mathura where Lord Krishna is believed to have been born and spent his childhood days and immerse themselves in bhajans, songs and dance performances hailing the life of the Blue Lord.
"Like every year we have come here along with our whole family to see Bal Gopal. From the youngest to the eldest everyone observes fast on this particular day. Ladies prepare special sweets and delicacies, but the most pivotal is bhajans and special theatrical programmes that are organised across Mathura. Not only Mathuravasis (citizens of Mathura) but you will see devotees from around the globe singing and dancing while commemorating Kanha," said Gayatri Singh, a Krishna devotee.
In India, which is considered a land of festivals, all festivals are celebrated with great devotion and happiness. However, Srijayanti or Gokulashtami has a special significance for the city of Mathura which is popularly known as Krishna Janmabhoomi.
"No one celebrates Janmashtami as Mathura does; after all, this is where Gopala was born. You will see people decorating their homes, visiting temples, enjoying shows and several sweets and delicacies," said a local resident Kiran.
Worshippers celebrate by generally observing a day-long fast and thereafter breaking it at midnight, the time when Lord Krishna was born. Devotional songs, aartis, dance-drama performances and rituals like 'bhog' mark the auspicious day.
"We started the preparations for this auspicious occasion from a week ago but the celebration started yesterday, by observing fast and dressing up Krishna's idol. We broke fast in the mid-night with mishri (a type of sweet) and sung our favourite bhajans and aarti," said Manoj Singh, another resident.
-ANI
Also Read: Congress in tribute to Arun Jaitley: An astute parliamentaria