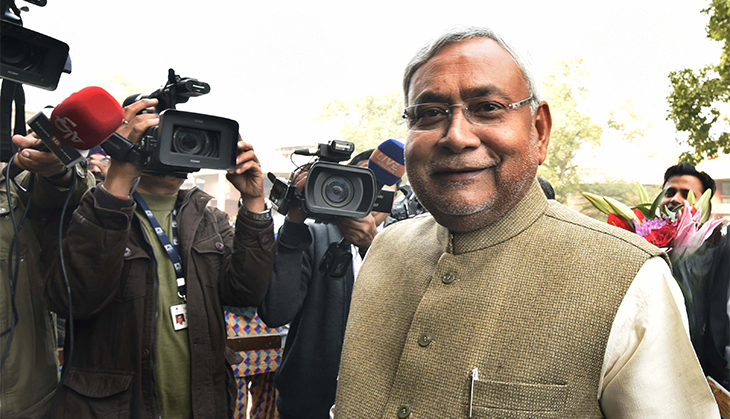 Bihar Chief Minister Nitish Kumar has appealed to non-BJP parties to bring about a 'Sangh-mukt' (Sangh-free) country "to save democracy".
"Sangh-mukt Bharat banane ke liye sabhi gair BJP parties ko ek hona hoga (to usher in a Sangh-free India, all non-BJP parties have to come together)," the JD(U) chief said at the 'Advantage Conclave' in Patna.
"Uniting against BJP and its divisive ideology is the only way to save democracy," said Kumar.
The BJP, the political arm of the Rashtriya Swayamsewak Sangh or RSS, swept to power in the 2014 Lok Sabha elections with a call for "Congress-mukt Bharat" or Congress-free India, an election war-cry it has used in every subsequent poll.
The Chief Minister said he was not against any party or individual, but against "divisive" ideology of the Sangh, the ideological parent of BJP.
"The three stalwarts of the BJP - Atal Bihari Vajpayee, LK Advani and Murli Manohar Joshi - have been sidelined within the party and power has gone to people who have no faith in secularism and communal harmony," he alleged.
A day after becoming JD(U) president, Kumar had, on 11 April, said that he would strive to forge the "largest possible unity" against BJP by bringing the Left and the regional parties on one platform before the 2019 general elections.
In an apparent dig at Prime Minister Narendra Modi, Nitish Kumar said, "Management is more important than event management."
"Event management could benefit for sometime. But, there is a need to go into the depth of the issue. Sincere work done for the welfare of people itself reaches the masses," he said.
Referring to prohibition in Bihar, he said, "I have visited three-four districts (after the announcement of a total ban on liquor on 5 April). I found its not only women, but even men are happy with it."