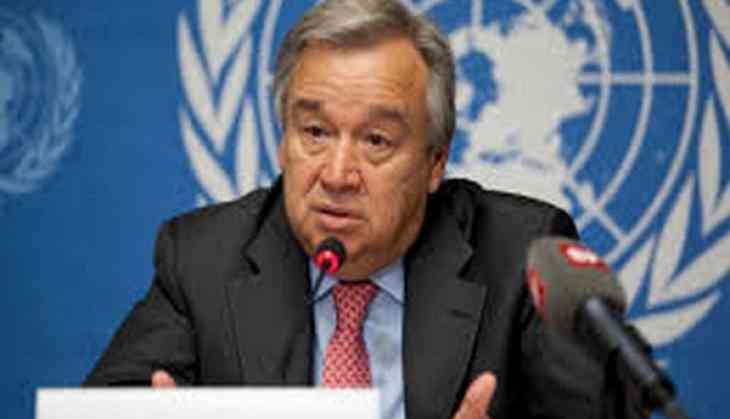 United Nations Secretary-General Antonio Guterres Tuesday paid tribute to Mahatma Gandhi at his memorial here and hailed him as a "great soul" and humanity's "guide in our troubled world".
Guterres, later in an interaction with PTI, denounced terrorism as a "plague" that affects the world, and highlighted the significance of the principle of non-violence espoused by Gandhi.

"I feel extremely honoured to pay tribute to this great figure in world history. Today (October 2) also marks the International Day of Non-violence. And, as we continue our work to advance peace, the way to realise the objectives is through non-violence," he said.
Guterres, currently on a visit to India, his first as the UN Secretary-General, also laid a wreath on the 'samadhi' of the father of the nation at Rajghat.
"I pay tribute to this greatest soul that has ever lived. Our guide... in our troubled world," he wrote in the visitor's book.
According to the UN General Assembly resolution of June 15, 2007, which established the commemoration, the International Day of Non-Violence is marked as an occasion to "disseminate the message of non-violence, including through education and public awareness".
The resolution reaffirms "the universal relevance of the principle of non-violence" and the desire "to secure a culture of peace, tolerance, understanding and non-violence".
"Gandhi proved that non-violence can change history. Let us be inspired by his courage and conviction as we continue our work to advance peace, sustainable development and human rights for all of the peoples of the world," Guterres said.
Vice President M Venkaiah Naidu had on Monday said the world must come together to fight against terrorism and urged the UN to come up with "strong, coded actions" to tackle terror, its sponsors and those who are funding and supporting it.
Ahead of his visit, Guterres had said that India was an "important partner" of the UN in countering terrorism and preventing violent extremism.
He also said there were plans to step up cooperation between the UN and India on strengthening capacity in combating terror financing.
A senior official at the UN India Office here said Guterres was leading a small delegation to India during his visit and is scheduled to depart from the country on Wednesday.
-PTI