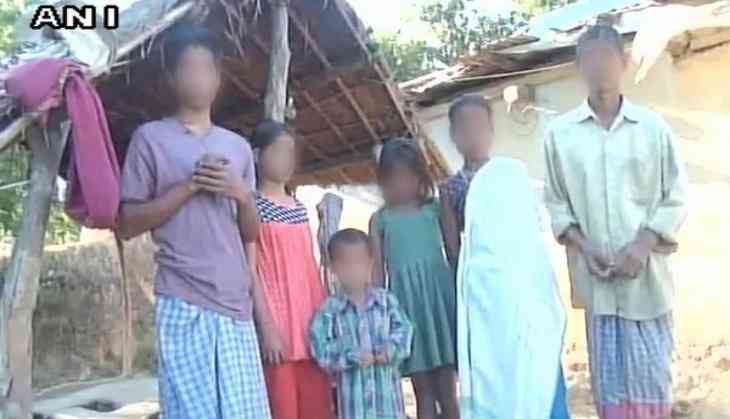 Another case of selling of a child has come to light in Communist-ruled Tripura after a tribal man confessed to the crime.
Karna Debbarma from Sarat Chandra ADC village of south Maharanipur, under Teliamura sub-division, confessed to selling of his eight-month old daughter, for just Rs 200 to fetch some food for his poor family.
"Due to poverty, I was compelled to sell my child in order to feed my family," he said.
Debbarma added: "In spite of demanding on several occations, I only have an APL (above poverty line ration) card. I even did not get any house or toilet (which are generally provided free under the government's flagship programme). I have demanded for a house and a BPL (below poverty line ration card) to the Left Front government. I am poor and somehow run my family by selling straw and bamboo."
This year, it is the third incident reported of a tribal poor family selling their children off in order to run their families in Tripura.
Debbarma added, "The politicians have been assuring me that when the appropriate time comes, they will fulfill my demands. But, they never gave us anything."
There are six members in his family at present and their lives are dependent on selling of forest products. They are deprived of the various schemes launched by the Centre and the state government for the tribal people.
Local villagers alleged that in spite of the poor condition of Karna's family, he got nothing from the government.
Sampri Debbarma, a local villager said, "I have seen Karna Debbarma for the last many years at Maharanipur. His condition is poor and he does not have a house to live. He had appealed to the government several times for a BPL card or a house, but he did not get anything. Ultimately, he sold one of his children for just Rs 200."
"He runs his family by collecting straw, bamboo and firewood from the forest and sells them in Ghilatali or Mothcherra market. For so many years, the Left Front government is there in power, but did nothing for the poor. He had seven members in his family. But after selling one of their children, they are now six", Sampri added.
Similar incidents of poor tribal families selling their children off to run their family were reported in Tripura this year.
Earlier, a tribal woman at Rangia Tilla of Haldia ADC village, under Teliamura police station, bordering Khowai district, was compelled to sell her 11-day old son for Rs 5000. She did this to bear the treatment cost of her ailing husband.
The incident took place around 50 km east of the state capital Agartala, in the third week of April.
In April this year, at Ramkumar Choudhury para, under Ultacharra ADC village, in remote Gandacherra sub-division of Dhalai district, a tribal lady named Ronnopati Reang had sold her child for Rs 200 to a family to an auto driver, Danshai, a resident of Laxmipur ADC village.
However, the state authority denies any such incident of child selling by poor tribal families. They have claimed that in every incident, the children were found and returned back to their biological parents.
In the last two years, at least five incidents of child selling by poor tribal families have been reported from Tripura.
-ANI