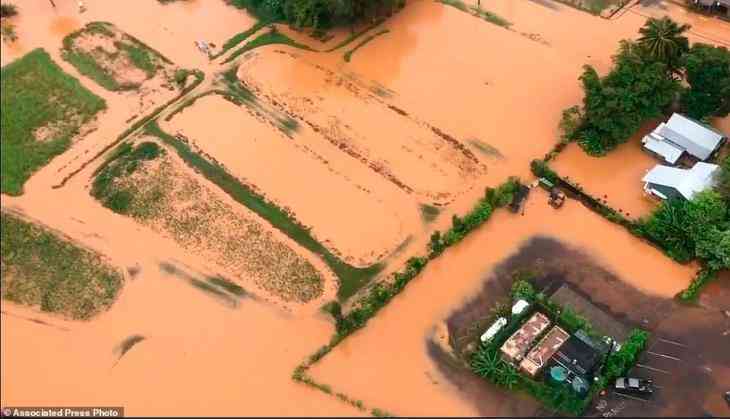 Flash floods triggered by heavy rainfall for more than 24 hours inflicted havoc in different parts of Tripura, forcing around 600 families to seek shelter at relief camps.
The District Magistrate of West Tripura district, Sandip Mahate said, "Due to incessant rains last night in Sadar and Jirania sub-division and several wards of Agartala Municipal Corporation, the water of Haora River is flowing at 10.3 meter which is .3 meter above danger level."

"The affected people along the river banks have been shifted to 16 flood relief camps in which 670 families are living. This may increase as rescue operations are underway by National Disaster Relief Force, Tripura State Rifles, and Civil Defense. The administration has arranged for ample food supply and drinking water," he added.
Heavy rainfall since Saturday created havoc in the city throwing the lives of people out of gear, following which an alert was also been sounded by the Sadar sub-division administration when the river touched the danger mark.

Tripura Minister Ratan Lal Nath along with the authorities of the administration visited some flood-affected areas to meet the victims.

"Due to a sudden downpour in the hilly areas, the Balda Khal, Chandrapur and adjoining areas are flooded as the water level in rivers have increased, due to which, the water is unable to pass to Bangladesh," he said

"In the meantime, several families had to be evacuated and the administration had already reached before I came here. Officials have looked into people's problems and local people have also rendered help. Arrangements for boats have been made though we were not ready for this situation which is a natural hazard and the administration stood by the people," he added.

The heavy downpour was reported in the state's hilly areas over the past 24 hours, triggering a flood in the downstream areas including the capital town and its adjacent areas.

According to reports, more than five thousand people, along with their belongings and domestic animals have taken refuge in temporary camps in various schools and government establishments in and around the capital Agartala.

Purnima Datta a flood victim said, "Since morning, there has been no rain, but all of a sudden the water level has gone up. We are in great problem and do not know what we should do. We left essential commodities and documents in our house but not sure if shall find them in proper condition. We have not seen such floods earlier. The Minister has assured all help, let's wait and see."

Another flood victim Milan Biswas said, "I have come here with a one-and-a-half-month-old child as water entered our house and everything was under water. We were rescued in a boat and during the night there was rain."

Water levels in major rivers- Gomati, Deo, Manu, and Haora were swelling with every passing hour, posing flood threat throughout the state.

The regional office of the MET department had also issued a warning with the prediction of more rainfall in the next 24 hours, and the district administrations had been alerted to keep a close eye on the situation.
(ANI)