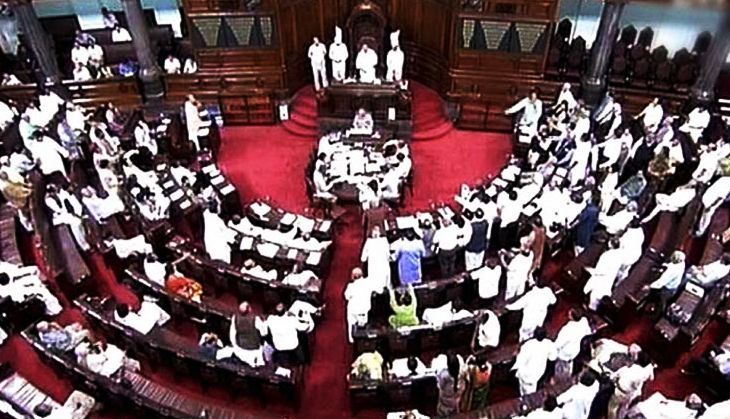 Trinamool Congress (TMC), which is fighting it out with the Congress-Left alliance in the West Bengal assembly election, on Monday sought to corner the Congress in Rajya Sabha by raising the Agusta Westland helicopter issue.
They wanted the names of the alleged bribe takers 'Gandhi' and 'AP' in the case revealed. In the process one of TMC MPs, Sukhendu Roy was expelled from thethe Rajya Sabha for a day for breaking rules. Roy wanted the Defence Minister to issue a statement on the matter, to which Deputy chairperson PJ Kurien said that there was no such rule. Later he was suspended for a day by Chairperson Hamid Ansari.
Reacting to the development (TMC) national spokesperson Derek O' Brien said that his party does not have to give a Rajya Sabha notice to corner Congress on AgustaWestland chopper scam, as they have cornered the party electorally in West Bengal.
"Congress and Left are already cornered in Bengal. So, we don't have to give a Rajya Sabha notice to corner them. Yes, we have given a notice to the Rajya Sabha for suspension of all business and to take up today itself the very serious issue of AgustaWestland chopper scam," O'Brien told ANI.
He also demanded that the issue to be taken up for discussion on an immediate basis.
"They (Congress) are doing a lot of big talk now. This is not the time for big talk from us; we will wait till the May 19th of May," he added.
The TMC had earlier gave a notice in the Rajya Sabha for suspension of all business to pave way for immediate discussion on the alleged AgustaWestland chopper scam.
Earlier, the Bharatiya Janata Party (BJP) had questioned the silence of the TMC and the CPI (M) over the VVIP chopper deal.
Meanwhile, Defence Minister Manohar Parrikar has said he will place all facts along with the detailed chronology about the controversial chopper deal before Parliament on May 4.
"I will place the detailed chronology with documents giving facts about AgustaWestland chopper deal before Parliament on May 4," he said in Panaji.
AgustaWestland's Rs 3,600 crore contract for supplying 12 VVIP choppers to the Indian Air Force had been scrapped by the previous UPA regime over charges of paying kickbacks to Indian agents.
In January 2013, the Manmohan Singh-led UPA Government cancelled the deal and the CBI was assigned to investigate whether kickbacks were paid to Indian officials.
With inputs from ANI