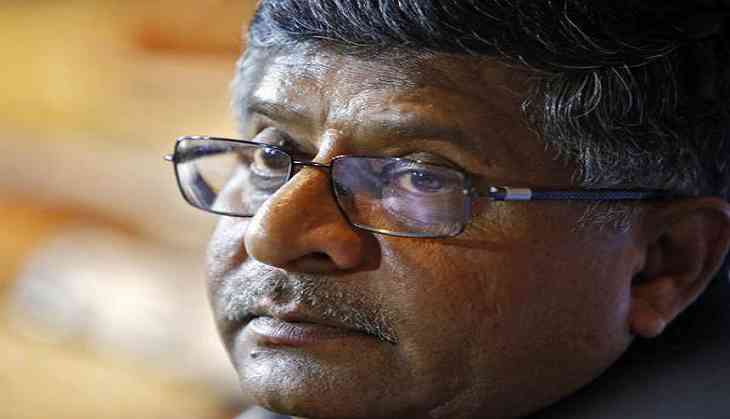 Evading the question on former A.K. Antony's statement calling on the Centre to give a free hand to the Indian Army in giving an 'appropriate reply' to the mutilation of two Indian soldiers' bodies by Pakistan, Union Minister Ravi Shankar Prasad on Tuesday asserted that it wasn't the time to politicise the matter, but to speak against terrorism in one voice.
"India armed forces have adequately replied in the past. It is not an occasion to enter in duel. I would expect the entire country to speak in one voice," he said.
Slamming Pakistan for the dastardly act, Prasad said that such acts were not committed even during war.
Prasad assured that the country stands firmly behind those who have sacrificed their lives for the motherland and their sacrifice shall not be allowed to go in vain.
"Pakistan and its forces have conducted the most despicable and shameful act against our brave jawans by the kind of shameful, dastardly and cowardly treatment they have given to their bodies. This does not happen even during war. We condemn it outrightly. It shows the mindset of Pakistan, one of complete cowardice. We need to trust the courage and leadership of our armed forces," Prasad told ANI.
Earlier today, Antony called on the Centre to give a free hand to the Indian Army, while reminding that such an incident had happened only once under the Congress regime.
"During our time, only one such incident happened. The incident of mutilation happened only once in eight years. But here it has happened thrice. It has affected the morale of the Indian Army. It puts a question on the security structure. Give freedom to the army to take appropriate action at appropriate time," Antony said.
Yesterday, the Pakistani soldiers along with their Border Action Team (BAT), which include trained border inhabitants, launched a joint attack.
They first fired rockets and followed this up with firing from automatic weapons, near Kranti Post located in Poonch's Krishna Ghati Sector around 8.30 a.m.
The Pakistanis then crossed the LoC, entered 200 meters into Indian Territory, and attacked a joint patrol of the Army and Border Security Force (BSF), heading towards a nearby post.
It is the same Krishna Ghati sector where the Pakistani BAT had beheaded Lance Naik Hemraj and badly severed the head of Lance Naik Sudhakar Singh of 13 Rajputana Rifles, on January 8, 2013.
-ANI