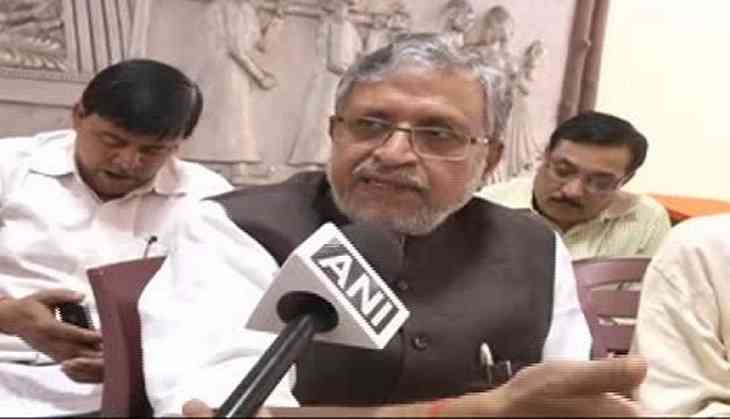 Bharatiya Janata Party leader Sushil Modi on Thursday expressed his gratefulness to Bihar Chief Minister Nitish Kumar, whose party Janata Dal (United) first exposed the case of Delight Marketing, urging him further to sack Deputy Chief Minister Tejasvi Yadav.
"I would like to thank Nitish Kumar because it was his party Janata Dal (United ) who first exposed this. The two people, Lallan Singh, who is now a minister in the Bihar Government, and Shivananad Tiwari, who after changing colour like a chameleon, is standing with Lalu disclosed this matter, were actually the ones who brought the case of delight marketing to light for the first time," Modi said.
He further urged that the Nitish Kumar should break his silence and sack Tejasvi Yadav as the deputy Chief Minister.
The Central Bureau of Investigation (CBI) on Friday registered a case with the charges of criminal conspiracy against the Rashtriya Janata Dal (RJD) Chief Lalu Prasad Yadav, on the allegations of awarding the tender for development, maintenance and operation of Hotels at Ranchi and Puri to a Private Company dealing with Hotels in the year 2006.
The CBI has also booked Yadav's wife Rabri Devi, son Tejashwi Yadav, then MD, IRCTC P.K. Goel, a Private person, two Directors of Private Company, a Private Marketing Company and one other person in connection with a same.
The CBI earlier today conducted searches at 12 locations across Patna, Delhi, Gurgaon and other places in connection with a case linked to a hotel maintenance contract awarded by Lalu Yadav when he was the Railway Minister in 2006.
The CBI is also examining irregularities in awarding tenders to private firms for operating railway hotels located close to stations.
These raids have comes weeks after income-tax department searched locations in New Delhi and adjoining areas in regard with corruption charges against Yadav's daughter Misa Bharti and her husband Shailesh Kumar.
In wake of CBI cases registered against his ally, Nitish Kumar has called senior officials for a meeting in Rajgir.
-ANI