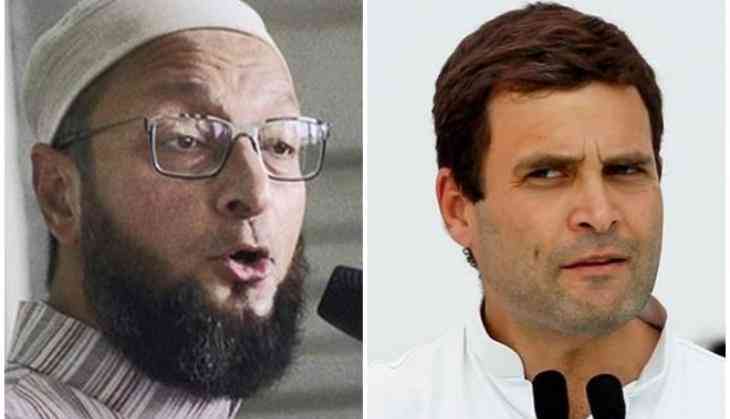 AIMIM chief Asaduddin Owaisi is often known for his controversial statements. As Assembly Elections is approaching in Telangana, Owaisi is holding public rallies, where he is directly attacking Congress and Telugu Desam Party. While addressing an election rally in Saidabad in Malkapet, Owaisi attacked the Congress president Rahul Gandhi on his 'Janawdhari Hindu'.
Attacking Rahul Gandhi, Owaisi said, "When the youth here were thrown in prisons. Life was ruined due to Chandrababu Naidu. Do these people of Congress come for us, did this Janewdhari Hindu come? Who calls himself a Janewdhari Hindu." He also called Congress a group of pick-pocketers.
Target on the religion:
Owaisi further said, "Are! Rahul Gandhi tum kya jaanate ho, humare takleef kya hai. Tum to mahalon mein zindagi gujaare. kya tumane apane jism par kabhee laathiyaan khayi. kya tumko tumhare naam se majahab ke naam par jaleel kiya gaya. Kya tumse na-insafi hui. Are! hamane mukabala kiya. Jamhuriyat par yakeen karake kiya. Hindustaan ke sanvidhaan ka istemaal karake kiya."
Congress group of pick-pocketers:
Attacking Rahul Gandhi, Congress and TDP, Owaisi said, "wo (raahul) aaj toorist banakar yahaan aate hain. ek sabha ka jikr karate hue unhonne aarop lagaaya ki buson mein bithaakar logon ko laaya gaya tha. unhonne aarop lagaaya ki 100 rupaye aur ek paiket bhi diye gaye." Owaisi also went brutal on TDP and said, "Telugu Desham Party TDP) aur Congress ye donon poketamaaron kee jamaat hai." He said, "tumko 100 rupaye aur kutte ka pishaab mubaarak ho. piyo kutte ka pishaab. tum hamase mukaabala nahin kar sakate.
Owaisi further said that these parties will not be able to stop our success. Owaisi said that TDP, the Congress and the BJP are worried that why this man wearing a Sherwani troubling them.
The assembly election in Telangana is schedule on 7 December and the counting of votes will be done on 11 December.