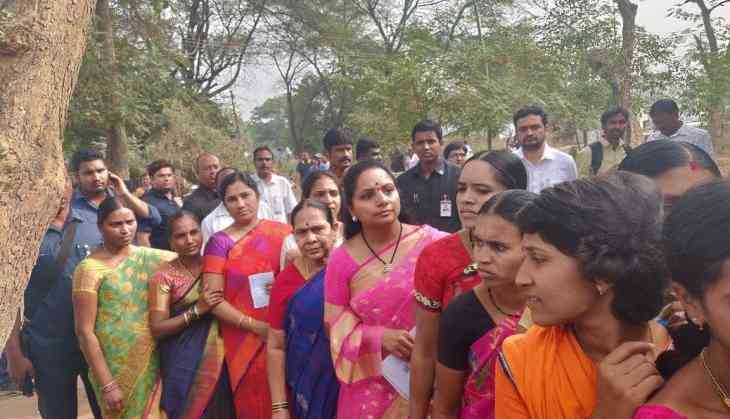 Telangana Election Polling
Telangana is voting today for the first time in India's newest state as the state is seeing a triangular contest ahead of the 2019 Lok Sabha elections.
The incumbent CM K Chandrashekhar Rao, who has led Telangana Rashtra Samiti to the forefront in the state and became the first chief minister is now looking for the second term, which the Opinion polls have predicted that it might not be a tough fight for TRS and will form the government comfortably.
Today, every newspaper in Telangana featured front page advertisements of the Congress party led alliance with TDP and TJS and CM KCR Rao's TRS but the Election Commission has denied any poll violation. The Chief Electoral Officer Rajat Kumar has said, "The advertisements are pre-certified, so I do not think they are in violation of the MCC."
Andhra Pradesh CM and TDP chief N Chandrababu Naidu has urged the people to vote today and has added that every vote counts. "Appealing to the citizens of Telangana to exercise their right to vote today. Remember that every vote counts and will make a difference."
The state which has 112 seats is up today for polling wherein the TRS had won 63 seats last time and the Congress had captured 21 seats while Chandrababu's TDP had 15. With 7 seats in the offing of AIMIM, Owaisi had garnered a fair chunk of vote share and Rao has a good bonding with AIMIM.
Poll pundits have said that a 2 per cent vote swing in Telangana might effect the results, as the grand alliance between the Congress and TDP will show its new colors or will the BJP's Amit Shah has a new chance to tackle the anti-incumbency, December 11 will tell.
Also read: Telangana Election 2018 Live Updates: Polling begins in Telangana's 119 constituencies seats to decide fate of
Hyderabad: Asaduddin Owaisi casts his vote at polling booth no. 317 at Mailardevpally, Shastripuram. #TelanganaElections pic.twitter.com/CbQDQFbxjT

— ANI (@ANI) December 7, 2018
TRS MP K Kavitha stands in a queue to cast her vote at polling booth no. 177 in Pothangal, Nizamabad. #TelanganaElection2018 pic.twitter.com/3sQskAJzUs

— ANI (@ANI) December 7, 2018