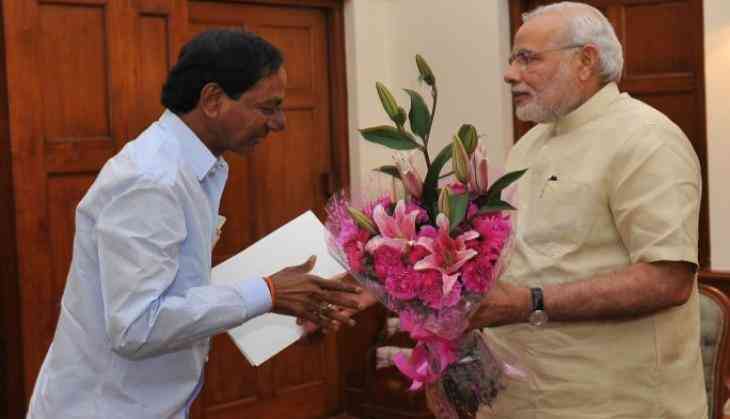 K Chandrashekhar Rao and Narendra Modi
As the Telangana Election is approaching, the battleground for a Hindu-Muslim debate is set and the star campaigners are leaving no stone unturned to revive the ghost of quota.
Now, PM Narendra Modi while rallying in Telangana's capital Hyderabad has asserted that a Muslim quota if given, will be a betrayal for India and its residents. He targeted the religion based reservation being given at the outskirts of election mandate and to garner votes.
While the game of polarizing is on, several comments including Lord Hanuman, and UP CM Yogi Adityanath and AIMIM's Owaisi has been at the verge of crafting a virtual war amongst each other.
PM Modi, while addressing a crowd in Hyderabad has said, "Minority ko aarakshan dene ka khel, yeh desh ke saath gaddari hai ki nahi? (Playing this game of promising quota to the minorities, is it not betrayal to the nation)?"
He said he was surprised by the actions and manifesto of caretaker CM K Chandrashekhar Rao and said, "these power-hungry people, to save their chair for their family, resorted to such a step."
The Telangana election is a competitive one this time as the Opposition which is being led by the Congress has formed a "Peoples Alliance" along with the Andhra CM N Chandrababu Naidu's Telgu Desam Party and a regional force Telangana Jan Shakti. The BJP is contesting the poll on its own the Telangana Rashtra Samiti has up the ante of the Telangana Asmita and the regionalism is getting favored in the election, which has grounded a support of Muslim-Hindu and backward class votes.
Also read: Delhi: Shocking! 16-year-old boy and his cousin shot and injured in pub after DJ refused to play songs