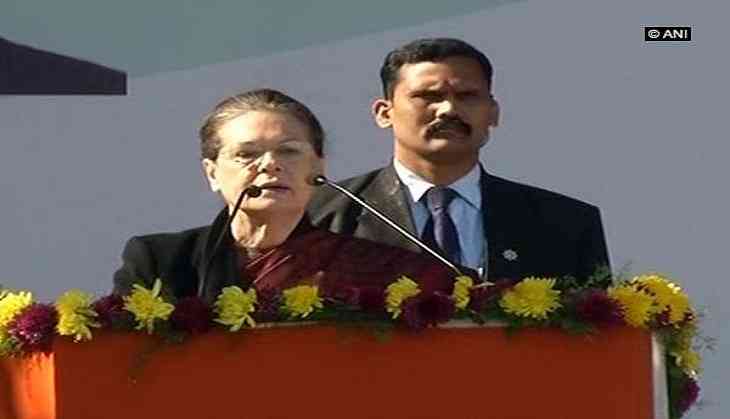 Telangana assembly election is around the corner and the UPA chairperson Sonia Gandhi, in her maiden rally, has asserted that Chandrashekhar Rao's family must be removed from the state.
Sonia Gandhi started rallying in the Telangana, which marks her first for the upcoming state assembly elections, scheduled in Rajasthan, Madhya Pradesh, Mizoram. The Chhattisgarh assembly election got over on November 20 in two phases.
Sonia, while addressing the rally said, "The Chief Minister has cared only for himself and his own people, leaving the child (Telangana) to suffer. People who aren't true to their word aren't worth trusting."
The Congress party which had lost its ground in the state had been searching for some allies to compete against the strong Telangana Rashtra Samiti, which had local leadership and had worked on ground to win the several election.
The Congress went into an allinace with N Chandrababu Naidu's Telgu Desam Party, Communist Party of India and a regional party of Telangana, to form a grand allinace for the assembly election, which is due to happen on December 7.
The Congress leader and former president, Sonia asserted that it was the Congress led UPA government which gave birth to the new state of Telangana, even after protest from the opposition.
Gandhi said, "For instance, I used to be so proud of the work done by women self-help groups in this region. It's unfortunate that their work has been affected under the KCR government."
Gandhi added that "Dalits, adivasis, minorities, backward classes, women and students everybody has been neglected by this government. How many promises made by the chief minister have been fulfilled?"
Also read: CBI crisis: Director Alok Verma's order to tap phones of NSA Ajit Doval and others was not illegal, says DIG