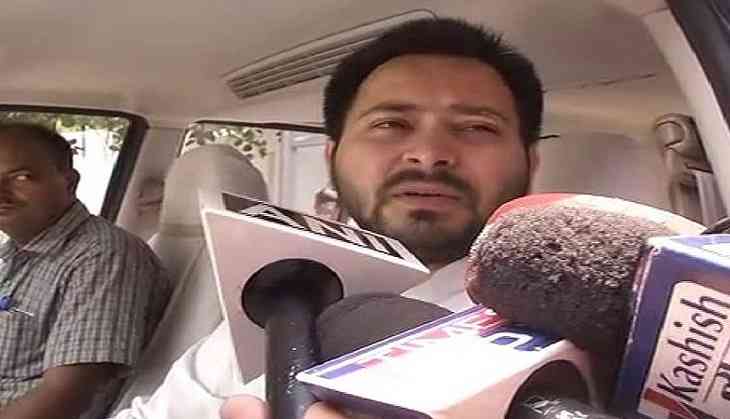 Branding Bharatiya Janata Party (BJP) leader Sushil Modi 'anti-Bihari', Bihar Deputy Chief Minister Tejashwi Yadav on Wednesday slammed the former stating that he is an outsider who would never care about the state's development.
Speaking to the reporters here, Tejashwi said " Sushil Modi is not even a Bihari, he is an outsider- total 'Anti-Bihari'. Why would these people even care about Bihar's development or its peoples' concern? We have been here since ages and we know the state better and its people."
Yesterday, the BJP continued to put pressure on Bihar Chief Minister Nitish Kumar over Central Bureau of Investigation's (CBI) case against Tejashwi Yadav and warned that they will not let the House function if an adequate response did not come from the Rashtriya Janata Dal (RJD) supremo.
Talking to the media in Patna, senior BJP leader Sushil Kumar Modi said, " Nitish Kumar has no defence so he must immediately suspend Tejashwi Yadav. JD (U) (Janata Dal (United)) is asking for a response since there has been enough delay in the matter. There is a strong case against Lalu Yadav's son. He has to clarify on the anonymous assets."
The CBI has registered a corruption case against Lalu, his wife Rabri Devi, son Tejashwi and former Indian Railway Catering and Tourism Corporation (IRCTC) Managing Director P K Goyal, and the wife of Lalu's confidante Prem Chand Gupta, Sujata on allegations of awarding the tender for development, maintenance and operation of hotels in Ranchi and Puri in 2006.
The CBI later questioned Rabri Devi and Tejashwi.
Lalu had earlier made it clear that his son Tejashwi Yadav, who is facing corruption charges, will not resign as Bihar Deputy Chief Minister saying 'politically motivated' CBI raids and filing of a first information report (FIR) can't be the ground for Tejaswi 's resignation.
"We are facing attacks from all sides. BJP is behind this. We will expose them in Bhajpa Hatao Desh Bachao rally on 27 August", Lalu added.
Tejashwi Yadav also remained defiant about not succumbing to the pressure or resigning, citing that the charges were a part of a political vendetta against him and his family.
"I can only say this is a political vendetta by the BJP. The main leaders attached to it are Amit Shah and Narendra Modi. They have always been scared of my father, but it seems they are scared of me too. Right from the beginning, they are trying to break the 'mahagathbandhan', and accuse us in all possible ways. Not just us, they are always ready to malign Bihar for all possible crime," he said.
Meanwhile, the BJP has stressed that Tejashwi has only two options now- tender resignation or get sacked.
-ANI