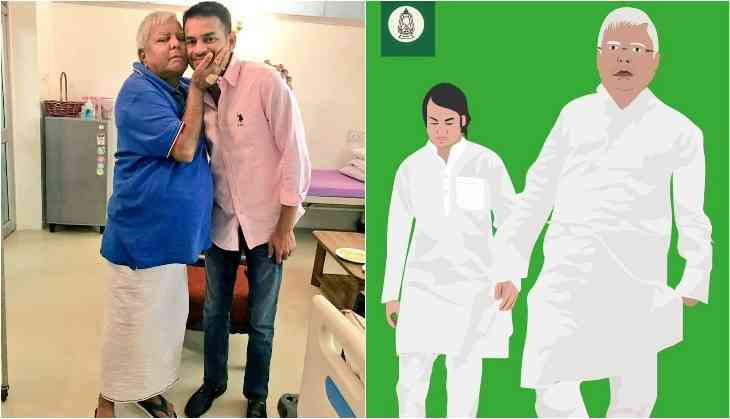 RJD chief Lalu Prasad Yadav's elder son Tej Pratap posted an emotional tweet on social media while missing his father in the elections. In this tweet, Tej Pratap Yadav also accused Congress for not giving him a chance to speak at a rally in Patliputra, Bihar.
Tej Pratap Yadav annoyingly tweeted, "I miss you Papa" who claimed that i was due to his father Lalu Prasad Yadav's absence that he didn't get allowed to speak at the rally. Let us tell you that Lalu Prasad Yadav has been sent to jail after his conviction in the fodder scam case.
मेरे आदरणीय पिता के अनुपस्थिति की वजह से मुझे आज बोलने नहीँ दिया गया।#IMissYouPapa😭😭 pic.twitter.com/w5F6uIzckb

— Tej Pratap Yadav (@TejYadav14) May 16, 2019
Tej Pratap Yadav said that Rahul Gandhi who was addressing the rally asked him to address the public but "he didn't get the chance to speak". The angry Tej Pratap Yadav also hit out at Congress and said that it is because of this kind of behaviour the Congress was losing the base in Bihar.
"If they [Congress] do not allow soldiers to handle the front, how will we win the war," Tej Pratap told to media after the rally. Tej Pratap Yadav was campaigning for his sister and Lalu Prasad's daughter Misa Bharti who is contesting from Pataliputra seat. Their younger brother Tejashwi Yadav was also present at the rally.
Earlier the brothers Tej Pratap Yadav and Tejashwi Yadav came together to ensure the win for their elder sister Misa Bharti. Tej Pratap had also campaigned against RJD's nominees in a couple of seats where his names were ignored. Tej Pratap however, remained loyal to his sister Misa and was seen campaigning with his mother Rabri Devi.
Misa Bharti won the Lok Sabha seat from Pataliputra in 2014 after his father got defeated by friend-turned-rival Ranjan Prasad Yadav. Misa is currently contesting elections against MP Ram Kripal Yadav who a former loyalist to her father later joined BJP just before 2014 elections.
Also Read - Unmarried Mayawati doesn't know family values, and how to handle husband: MP Ramdas Athawale