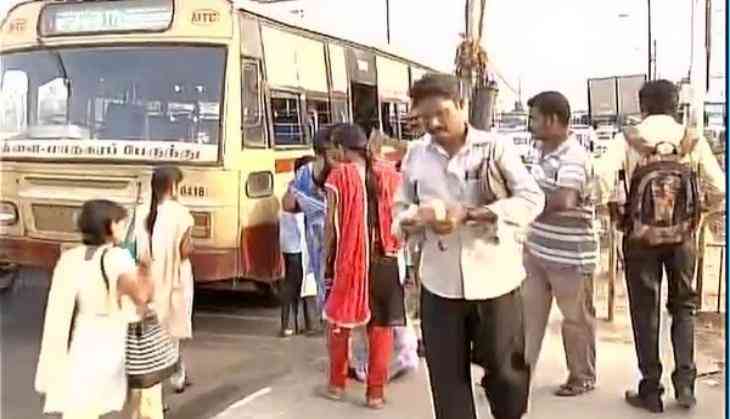 Tamil Nadu: Transport workers begin indefinite strike (ANI)
Trade unions of Tamil Nadu State Transport Corporation (TNSTC) have called for the suspension of bus services from today.
The staff unions have been demanding the release of funds for the arrears of the employees along retirement benefits and Provident Fund.
However, the seven rounds of talks which held with the government officials on Sunday ended in a deadlock, resulting in halting of operations of most of the public transport buses from this morning.
During the talks yesterday, the minister informed the union leaders that the government would disburse Rs 500 crore in September, but the leaders did not agree and they demanded at least Rs 1,000 crore.
TNSTC buses in some districts like Tiruchy, Thanjavur and Udhagamandalam went on strike with immediate effect leaving several passengers stranded by Sunday evening itself after crew came to know that their demands were not met.
Even several employees of MTC did not operate the buses, while some operated with police protection in the city.
However, the Southern Railway would be operating special unreserved long distance train services to Tirunelveli, Tiruvarur and Coimbatore from May 15 in view of the transport strike. It has augmented the Chennai suburban train service and the Mass Rapid Transport System MRTS in the state capital.
State transport minister M.R.Vijayabhaskar said, "Private operators have been asked to ply their buses in more numbers in all routes. Efforts are also being made to press into service retired staff."
He also added, "Around ten trade unions gave notice to the transport department. The strike will be full-fledged from Monday."
According to reports, for serving employees, 79 crore rupees DA arrears have been paid. However, the trade union have demanded about 7000 crores total arrears towards retirement benefits and serving staff allowances.
-ANI