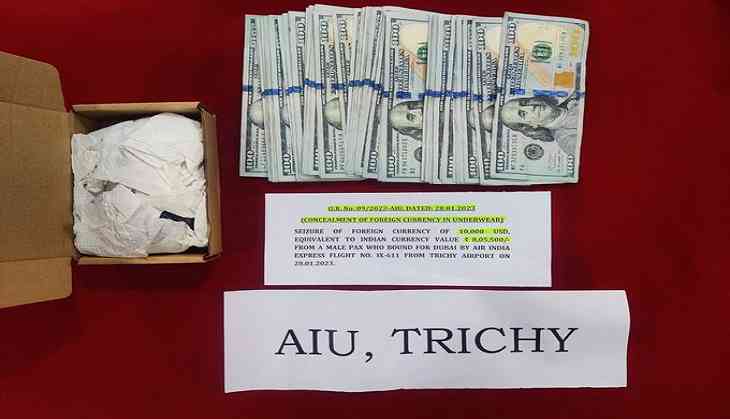 Customs officials at the Tiruchirappalli International Airport arrested a man and recovered huge amount of foreign currency from his possession. The officials recovered USD 10,000, equivalent to Rs.8.05 lakhs in Indian currency, from his possession.
As per Tiruchirappalli airport customs, the accused passenger concealed 100 dollar bills into his underwear.
Tamil Nadu | Tiruchirappalli airport officials seize 10,000 USD foreign currency worth Rs.8.05 lakhs from a male passenger's underwear who was bound for Dubai via Air India Express flight. pic.twitter.com/p9YgUKWtLm

— ANI (@ANI) January 28, 2023
The officials detected the foreign currency during the routine checking and separated the accused for questioning.
The accused passenger was trying to fly to Dubai via an Air India Express flight.
On January 23, the Customs officials at Trichy international airport seized foreign currency of 9,600 USD from a male passenger.
Also Read: IAF's Sukhoi, Mirage fighter jets crash in MP's Morena
The Air Intelligence Unit (AIU) of the customs department checked a male passenger who was about to board a Singapore-bound Air India Express Flight owing to suspicion. They found 9,600 USD equivalent to Rs. 7.8 lakh in Indian currency.
According to officials, during the search, the foreign currency was found concealed in slippers.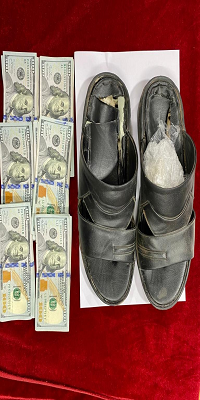 In December 2022, the Customs Air Intelligence Unit (AIU) intercepted a man and seized two gold biscuits, valued at over Rs eight lakhs, concealed inside a tin at Trichy Airport. The gold pieces weighed 147.5 grams and had a purity of 24 carats.
In November last year, Trichy airport officials seized one piece of gold weighing around 145 grams from a female passenger. The gold piece was worth Rs.7,74,590 and had a purity of 24 carats. The officials extracted the yellow metal from 169 grams of paste-like materials concealed in the rectum of the female passenger.