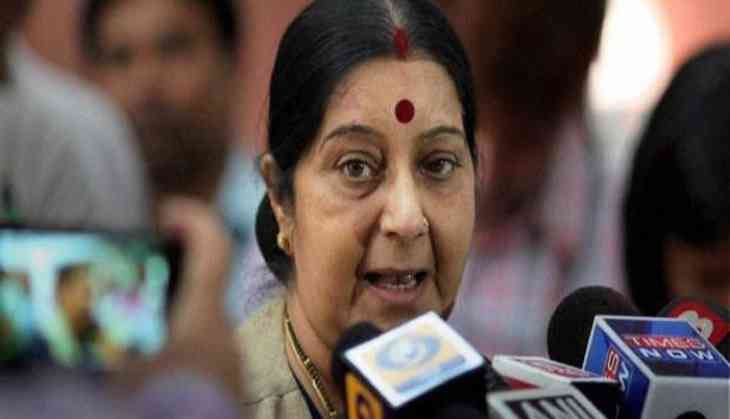 Union Minister Sushma Swaraj condemned Samajwadi Party leader and candidate from Rampur, Azam Khan's controversial 'Khaki Underwear' remark against Jaya Prada. Foreign Minister Sushma Swaraj urged Samajwadi Party founder Mulayam Singh Yadav to open up on the disrobing of the Draupadi of Rampur".
During a poll campaign in Rampur, Azam Khan made a below the belt remark while attacking rival BJP rival Jaya Prada on Sunday. Khan made the comment in presence of Samajwadi Party chief Akhilesh Yadav. SP leader comment has irked controversy and FIR has been lodged against him in Rampur.
Taking note on Khan's remark, Sushma Swaraj drew the attention of SP Patriarch Mulayam Singh Yadav. "Mulayam bhai, you are the patriarch of the Samajwadi Party. The Draupadi of Rampur is being disrobed in front of you. Don't make the mistake of staying silent like Bhishma," the Swaraj tweeted, tagging Akhilesh Yadav's wife Dimple Yadav and party leader Jaya Bachchan.
मुलायम भाई - आप पितामह हैं समाजवादी पार्टी के. आपके सामने रामपुर में द्रौपदी का चीर हरण हो रहा हैं. आप भीष्म की तरह मौन साधने की गलती मत करिये. @yadavakhilesh Smt.Jaya Bhaduri, Mrs.Dimple Yadav.pic.twitter.com/FNO5fM4Hkc

— Chowkidar Sushma Swaraj (@SushmaSwaraj) April 15, 2019
In his campaign speech in Rampur, Azam Khan said: "....the underwear beneath is of the khaki colour."
Responding to the controversy, Azam Khan said he will withdraw his candidature from the ongoing polls if proved guilty.
"I will not contest the polls if proven guilty...I haven't named or insulted anyone and I know what I should say," Azam Khan told news agency ANI, on the crude remarks, allegedly made against Jaya Prada at an election rally on Sunday. "I was a nine-time MLA from Rampur and have been a minister," the SP leader said.
"If anyone proves that I have named anyone and insulted anyone by name. If it is proved, I will step back from the elections," Khan added.
Meanwhile, reacting on Khan's remark, Jaya Prada said, "He shouldn't be allowed to contest elections. Because if this man wins, what will happen to democracy? There'll be no place for women in society. Where will we go? Should I die, then you'll be satisfied? Do you think that I'll get scared & leave Rampur? But I won't leave."
Khan has been attacking Jaya Prada since she has quit SP and joined BJP on March 26. Prada has won twice from Rampur Constituency on Samajwadi Party ticket in the 2004 and 2009 but was shunted out in 2010 over allegations of anti-party activities.
Also read: Jaya Prada on Azam Khan's 'Khaki underwear' remark: 'Should I die, then you'll be satisfied?'