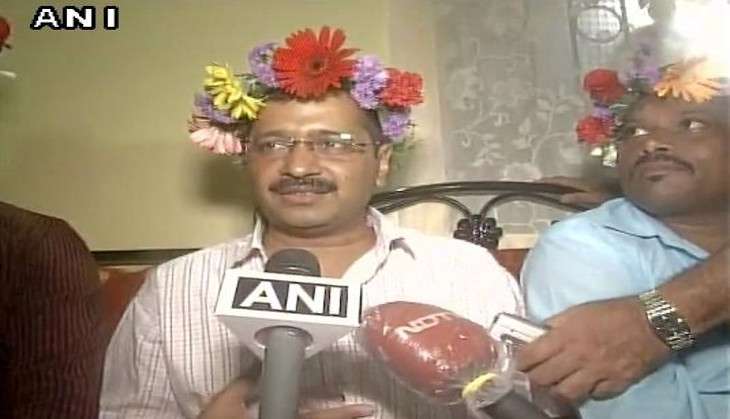 In a bid to pitch the Aam Aadmi Party (AAP) as a firm alternative to 'corrupt' Congress and the BJP in the upcoming 2017 Goa Assembly polls, Delhi Chief Minister Arvind Kejriwal on 28 June met the members of a fishermen community in Vasco and assured his support to them. Kejriwal also asserted that he was very certain that the AAP will win 35 out of 40 seats in Goa.
Kejriwal visited the house of Custodio D'souza , President, Old Cross Fishing Canoe Owners Society at Khadewada, and said BJP and Congress were two sides of the same coin, adding, "both parties are totally corrupt."
"What happened in Delhi will happen in Goa. People have seen that BJP and Congress are two faces of the same coin. Earlier, people did not have an alternative, but now they have. And we have seen it in Delhi. Even in Delhi we had said that we will not let peoples' livelihood affected," he said.
Kejriwal, who was seen donning a crown of flowers while interacting with the fishermen, told them that if AAP is voted to power in Goa, they would be the real decision makers.
When asked about his expectations from AAP's first electoral battle in Goa, Kejriwal said, "We will win 35 out of 40 seats."
"I have come here to meet the fishermen and listen to their problems. The Aam Aadmi party is not a party but a movement against corruption. It is a movement for the rights of common people. These people are raising issues related to their livelihood. They are saying that illegal dredging and other issues are affecting their lives," Kejriwal told media here.
The current term of the Goa Legislative Assembly ends on 18 March 2017. It is expected that the Election Commission schedule might announce the schedule of polls by January 2017.
The last election had resulted in a 21-seat majority to the Bharatiya Janata Party led by Manohar Parrikar.
Parrikar was elected as the Chief Minister, however, in 2014, he had to resign after being nominated as Minister of Defence. Laxmikant Parsekar then took the oath as Chief Minister.
--
ANI