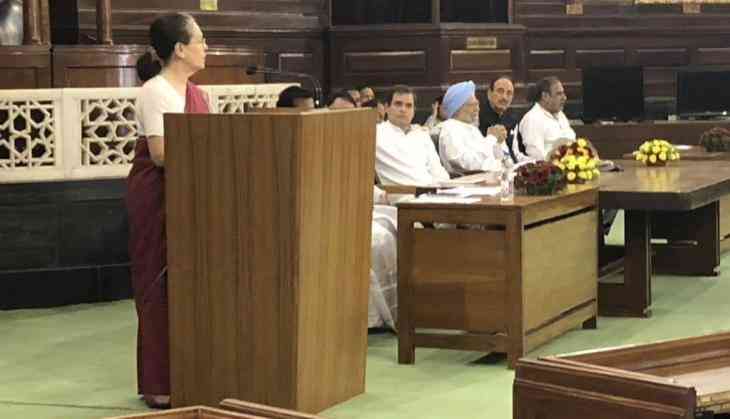 Congress leader Sonia Gandhi has been elected as chairperson of Congress parliamentary party (CPP). She is now the Chairperson of Congress parliamentary party and the decision was taken in the presence of Congress president Rahul Gandhi and former prime minister Manmohan Singh. Sonia Gandhi thanked the Congress party for voting to elect her as the Chairperson of CPP.
#Visuals Sonia Gandhi has been elected as Chairperson of Congress Parliamentary Party (CPP). pic.twitter.com/hDapq8FkJ3

— ANI (@ANI) June 1, 2019
The meeting took place after the Congress working committee meeting held last week, in which Rahul Gandhi offered resignation after this huge defeat. However, the working committee unanimously denied the resignation of Congres president. This is really a tough phase for Congress as they have only 52 Lok Sabha MPs after General elections 2019. A party should get around 55 MPs to get the position of Opposition in the parliament.
Delhi: Congress President Rahul Gandhi and Sonia Gandhi arrive for Congress Parliamentary Party (CPP) meeting. pic.twitter.com/sGf7d5l0Pr

— ANI (@ANI) June 1, 2019
Even in 2014, Congress just got 44 seats and once again they have got shameful defeat by BJP. While on the other hand, Lok Sabha elections 2019 turned out a win-win situation for BJP as they 303 seats, that is highest for them ever. One hand, Rahul Gandhi is stick to his decision of resignation, while Congress leaders have demanded to not allow his resignation.
Also Read - Jammu-Kashmir: Five militants from Kulgam shun path of violence; surrenders to police