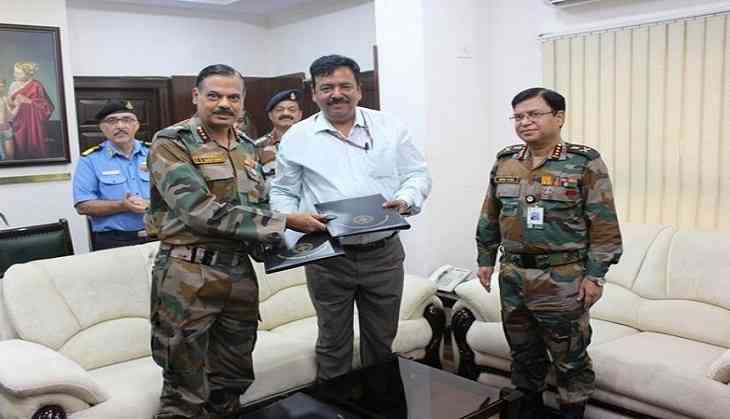 The Ministry of Defence has tied up with the Indian Space Research Organisation (ISRO) to provide better treatment to the soldiers of the Armed forces even at the remotest parts of the country, including the most difficult parts of Siachen.
A Memorandum of Understanding (MoU) for the establishment of Telemedicine nodes was signed on Friday between Development and Education Communication Unit (DECU) of Indian Space Research Organization (ISRO), Department of Space, Ahmedabad and Headquarters, Integrated Defence Staff (Medical), Ministry of Defence (MoD) at New Delhi.
The document was signed by Virender Kumar, Director, DECU, ISRO and Lt Gen CS Narayanan, Dy Chief IDS (Medical) in the presence of Lt Gen Bipin Puri, Director General Armed Forces Medical Services (DGAFMS).
ISRO will establish 53 more nodes in the first phase to existing twenty in the Army, Navy and Air Force across the country.
The highest battleground in the world not just have a functioning node on the Siachen Glacier, four more nodes are being established to enable medical consultation between soldiers deployed on the glacier and rearward medical echelons.
Many of these posts are cut off for many months in a year due to adverse terrain and climatic conditions. The biggest enemy has been the weather conditions at such icy heights. In such precarious conditions, communication through these satellite enabled telemedicine nodes will be a paradigm shift in the delivery of lifesaving health care.
This joint initiative by ISRO and the Armed Forces Medical Services will radically transform the reach of Telemedicine to combat soldiers, airmen, and sailors deployed in remote and isolated posts.
The troops of Indian Army are deployed in inaccessible areas, which makes healthcare delivery and monitoring of fitness of Armed Forces personnel a vital component of National Security.
Commanders primarily desire implementation of telemedicine solutions in remote and isolated posts manned only by combat soldiers. The only mode of evacuation from these posts is by helicopters, and this also may not be feasible for days and weeks at times.
(ANI)