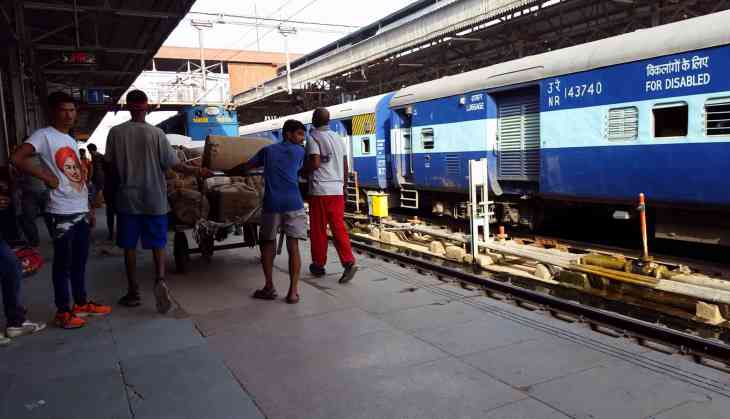 The Railway Protection Force has rescued more than 30 children per day between January 2017 and till August of this year, compared to less than 20 a day in three immediate years before 2017.
According to official figures, while over 20,000 children have been rescued by the RPF in 20 months beginning January 2017, a similar number of such children were sent home in three years -- 2014, 2015 and 2016.

As far as year-wise numbers are concerned, according to the figures, 11,178 children were rescued in 2017 while 8,963 children have been sent home by the force with the help of child welfare committees and NGOs in 2018 (till August) -- the combined 20-month number of 20,141 i.e. more than 1,000 children per month which comes out to be over 30 children per day.
In 2014, 5,294 children were rescued, the following year, the RPF rescued 7,044 children while in 2016, it sent home 8,593 children -- the combined 36-month number of 20931 or 581 children per month i.e. nearly 20 children per day.
A senior RPF official said the increased number of children being rescued does not mean there has been a corresponding increase in the number of crimes associated with them.
"We are taking a more proactive role in identifying children in need of protection at railway premises and sending them home before they get into crime. Earlier, our role would begin when a crime has been committed," Inspector General, RPF, Jaya Singh Chauhan told PTI.
"That is why we are rescuing more children now than ever before."
Chauhan also said the RPF has started extensive sensitisation programmes for its staffers, especially the female workforce, on how to deal with such vulnerable children "especially if they are minors".
In five years since 2014 (till August 2018), 41,072 children have been rescued. While 31,799 children who were rescued were boys, 9,273 were girls, according to the figures.
Out of this, 1,812 children were trafficked, six were drug addicts, 460 were destitute, 286 were abducted, 3309 were left behind, 4,357 were missing, 334 were found medically unfit, 131 had fallen down from trains, 193 were mentally ill while 8,944 were street children.
In the same period, 21,299 runaway children were also rescued.
The RPF, which recently held a sensitising programme for all its women staffers in the capital, gave them lessons in spotting a vulnerable child.
"If the child is too consistent in his/her replies or too repetitive. If their answers are limited. If they have peculiar marks on their bodies and an attempt has been made to hide them, then it should evoke suspicion. That is what our staffers need to spot," said Renu Chibber, DIG, Recruitment and Training, RPF, urging passengers travelling on trains or waiting at stations to look for signs and tip the authorities off.
The RPF, which currently has 2,500 women personnel is planning to recruit 4,500 more, taking their strength in the force to nine per cent.
"We are planning to take the number up to 10 per cent soon. We are deploying them much more to escort trains, to deal with children. They will be the sensitive face of the force, but quick to take action," said the IG.
-PTI