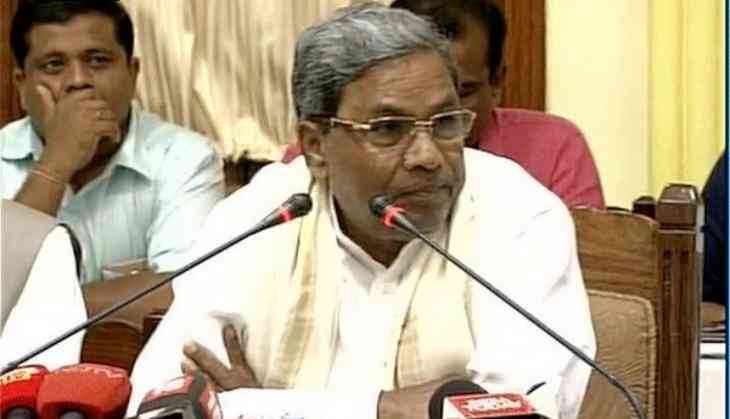 Karnataka Chief Minister Siddaramaiah on Wednesday dubbed Income Tax (IT) raids at residence of Karnataka power minister DK Shivakumar as 'undemocratic'.
The IT officials on Wednesday morning raided Karnataka Power Minister DK Shivakumar's residence and at a private resort in Bengaluru where 44 Congress lawmakers from Gujarat are staying.
Siddaramaiah said that it is the habit of the Bharatiya Janata Party (BJP) to use Income Tax department raids against those who raise voice against them.
"It's against the grain of democratic policy to use IT raids. BJP uses raise against people who raise voice against it," said Siddaramaiah.
Earlier in the day, Congress cornered the government in Rajya Sabha and Lok Sabha over the Income Tax raids against Shivakumar.
The Rajya Sabha witnessed protests by the opposition against the "witch-hunt by the government".
Congress leader Anand Sharma said it is now becoming a trend to blatantly misuse powers of the state.
Attacking the BJP, Another leader Ghulam Nabi Azad said, "Conduct raids on residences of those people from your party (BJP) who are offering Rs 15 crore."
Leader of Opposition in Lok Sabha Mallikarjun Kharge asserted that the BJP-led Centre was resorting to IT raid in wake of the Rajya Sabha polls in Gujarat
Kharge, defending his party in the Lower House, said that the ruling dispensation would not be successful in trying to pick on their party leaders.
"Just to defeat one Rajya Sabha candidate, they are doing all this, but they will not be successful," said Kharge.
Congress has fielded senior Congress leader Ahmed Patel for the Rajya Sabha polls from Gujarat.
The grand old party has also blamed the BJP for the resignation of its six MLAs in Gujarat, who later joined BJP.
After its MLAs' resignations, the party sent its 44 MLAs from Gujarat to Bengaluru and said the move was to save the MLAs from the pressure of the BJP.
However, Union Finance Minister Arun Jaitley asserted that the income tax raid at residence of Karnataka power minister DK Shivakumar has no links with Rajya Sabha polls in Gujarat.
Jaitley, while addressing the Lok Sabha, said that the raids are being conducted purely on economic front.
"This raid should not be linked with any Gujarat poll, this is on a purely economic offence," said Jaitley.
-ANI