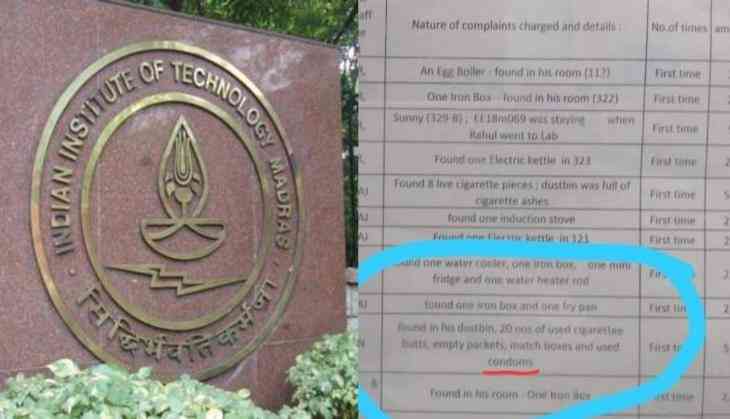 IIT Madras was recently in news for a raging controversy after a hostel office allegedly put student name and details on the notice board who was caught with used condoms inside his room. The incident took place reportedly last week has irked students, who are protesting against it and calling it a violation of their privacy and dignity.
During a checking at Brahmaputra men's hostel, authorities stumbled upon several banned items like iron boxes, egg boiler, electric kettle, water cooler, mini fridge, water heater rod, etc. But in one room, the team found 20 cigarette butts, matchboxes and used condoms in the dustbin.
The hostel office other than imposing a fine of Rs 5,000, has allegedly chosen to publicly disclose his name and shame the student for possessing condoms. According to hostel students, the vigilance officers barged into their rooms, clicked pictures without consent and insulted them.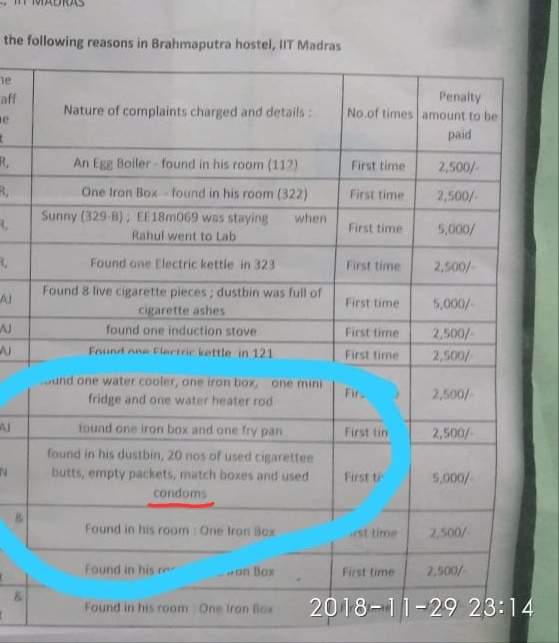 A Female student told to IndianExpress that there has been rampant harassment and moral policing prevalent in the campus. "A vigilance security officer asked if the room and bed were comfortable enough when I was at a boy's hostel during their visit," a student said in her testimony.
"Vigilance staff have been sensitised about being polite and to make sure the privacy and dignity of the student are maintained. Photos, if taken, are only for proof of violation. At no cost, Dean, Students Office, or hostel management office has and would indulge in insulting any student," Sriram K Kompella, Student General Secretary said.
The Dean Students' office refuting allegations, said, "No hostel office has done this act of publishing student details on the notice board. The institute will enquire further about this deviation if any at all."
Also read: Bulandshahar Violence: Subodh Singh's sister calls his killing a conspiracy because he was probing Dadri lynching victim Akhlaq's case