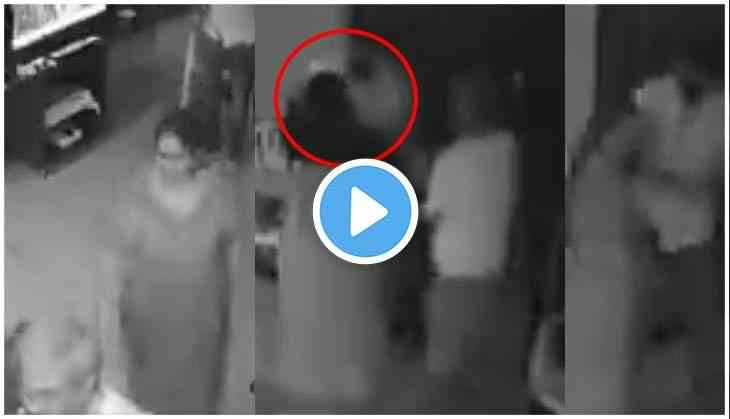 An old shocking CCTV footage allegedly of a retired Madras High Court judge has surfaced the Internet which shows him torturing his daughter-in-law along with his wife and son. and son.
The video dated April 20, 2019, helped Sindhu Sharma to confirm her allegations against her in-laws. According to the reports of India Today, Sindhu had complained about the domestic violence to the Hyderabad police on April 27. In her complaint, Sindhu alleged that she was physically and mentally tortured by her husband and in-laws over the demand of dowry, media reported.
The video has been shared by a Twitter user along with a caption, "there is some error in selecting good judges...". This video is being shared widely but Catch News can't independently verify the authenticity of the video.
In the video, two couples are seen, one being older than the other younger couple.
The video begins with a verbal spat between them and soon, family members become violent after the son of former Madras HC judge, violently pushes his wife Sindhu Sharma and hit her.
The spine-chilling video was released by Sindhu on late Thursday as proof in the on-going dowry harassment case.
According to the reports of News18, "I was screaming for help. My older one's name is Pandu so I screamed her name asking her to help me. She was sleeping and woke up and came into the hall. But you can see -- they took her away. The three of them (father-in-law, mother-in-law, husband) ganged up against me and attacked me," Sindhu told.
Sindhu also alleged that she had been taken to a private hospital as her in-laws wanted to get her sedated.
However, the doctor refused to do so and helped her get in touch with her parents, media reports said.
A police case was filed soon in April under sections 498A (cruelty by husband and relatives), 323 (voluntarily causing hurt) and 406 (criminal breach of trust) of the Indian Penal Code and Dowry Prohibition Act.
As per the reports of India Today, "The victim has not shared the video with the police. We in the past have also requested her to share photographs/videos related to the case but she refused. Our investigating officer today again asked her to share the videos. we are awaiting a response," Joint Commissioner of Police, CCS, said.
Meanwhile, there is no confirmation that the man in the video is the former judge of Madras High Court. Also, we are not sharing the footage released by the victim as the matter was already sub-judice.