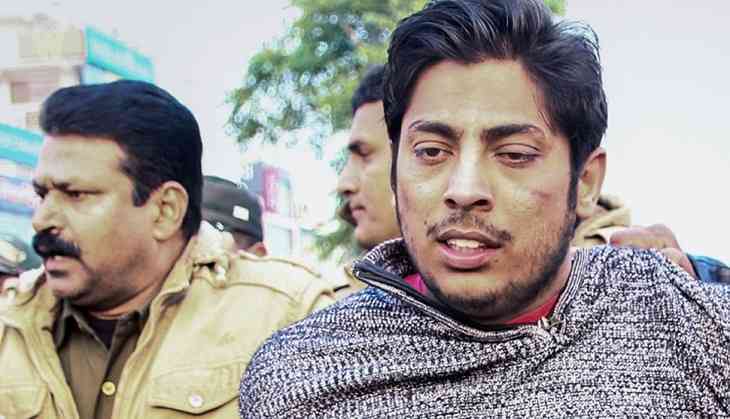 Kapil Gujjar (File Photo)
A Delhi court on Saturday sent Shaheen Bagh shooter Kapil Gujjar, to judicial custody till February 20. Kapil was sent to police custody thrice and was produced before Delhi's Saket Court today.
According to reports, the court had directed the police to escort Kapil to Bihar to find the person who allegedly supplied him the firearm used in the crime.
On Tuesday, Delhi police had said Kapil has some link with the ruling Aam Aadmi Party (AAP). Kapil who has been arrested for firing at protesters in Shaheeh Bagh area, the Crime Branch has found some pictures on the phone of the shooter in which he can be seen with AAP leaders including Sanjay Singh and Atishi. He was arrested for brandishing a gun at the anti-CAA protest site on February 1.
After being overpowered by police personnel, he also chanted 'Jai Shri Ram' and said, 'hamare desh me aur kisi ki nahi chalegi, sirf Hinduon ki chalegi (only Hindus shall have a say in our country, no one else),' as he was taken into custody by the Delhi Police.
After pictures of Kapil Gujjar joining the AAP in the presence of party MP Sanjay Singh surfaced on Tuesday, the BJP accused the party in Delhi for misusing and instigating the youth in the capital.
Union Minister Prakash Javedekar said during a press conference on Tuesday, "It is not a casual photo. He (Kapil Gujjar) was joining Aam Aadmi Party and (Rajya Sabha MP)Sanjay Singh welcomed him. This shows how AAP instigates the youth and misuses them. Thus AAP stands exposed before the people of Delhi."
On the other hand, Sanjay Singh said that it was BJP's dirty politics and conspiracy against them.
Meanwhile, DCP Crime Branch, Rajesh Deo confirmed that they have recovered photos from Kapil's phone.
"We recovered the pictures from his phone during the investigation. Kapil has confessed that he and his father joined AAP somewhere between January-February 2019," a police officer had said.
Also Read: Shaheen Bagh Firing: Shooter Kapil Gujjar connection with AAP, suggests Delhi Police