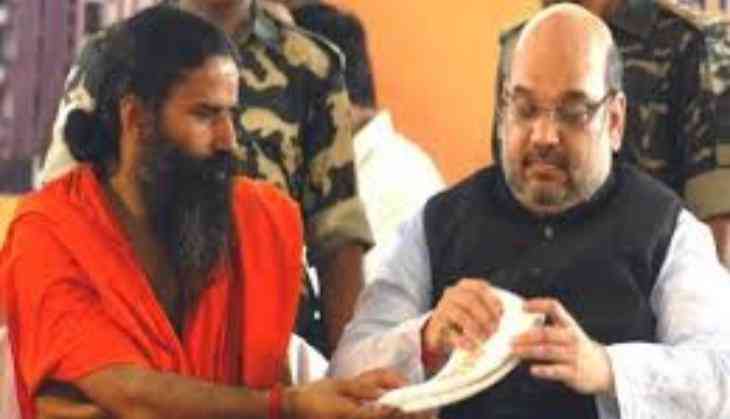 Bharatiya Janata Praty President Amit Shah called on yoga guru Baba Ramdev here on Monday and sought his support for the party in the 2019 general elections.
Shah met Ramdev as part of his ongoing Sampark for Samarthan (Contact for Support) initiative.
"We are meeting all those, who supported us in the formation of the BJP-led government in 2014. We are apprising them of all our work and efforts. We are also seeking support from them for the 2019 elections," Shah said.
"Meeting Baba Ramdev means we are meeting millions of people (who are his followers). He has assured us full support for next year's elections," he added.
On his part, Baba Ramdev praised the leadership of Prime Minister Narendra Modi and achievements of his government over the last four years.
Ramdev said: "Prime Minister Modi's leadership is taking the country forward in a new direction. In the last four years, the central government has made us proud through International Yoga Day. The BJP-led government has given us freedom from 'tax terrorism' by introducing a popular taxation system like GST. Prime Minister Modi has wiped off the tears of tens of hundreds of Indian mothers by giving them LPG connections."
He added: "Narendra Modi is the first prime minister in 70 years who is respected by powerful leaders from across the world, including those of the United States, Japan, Russia, and Israel. No previous Prime Minister has received such respect before."
The Sampark for Samarthan initiative was launched by Amit Shah on May 30 in an attempt to reach out to people and generate awareness about the achievements of Prime Minister Narendra Modi and his National Democratic Alliance (NDA) government in the last four years.
Eyeing the 2019 general elections, Shah has said that he will reach out to at least 50 people personally and give them details of the initiative and inform them about the achievements of the government. He said that each BJP worker has been given the responsibility of contacting at least ten people for the same.
Shah informed that the NaMo App would also be promoted in a similar manner.
(ANI)