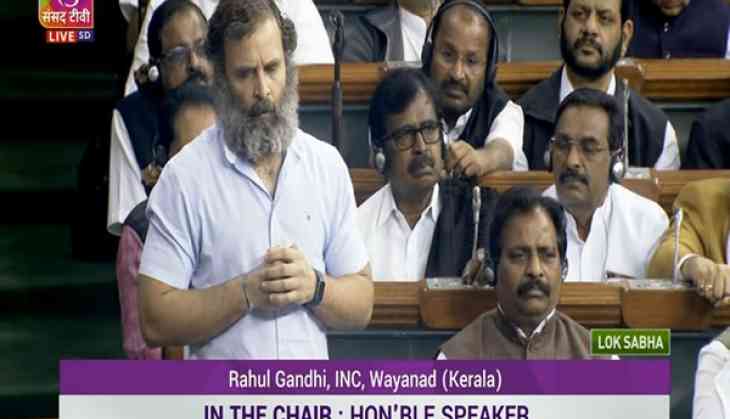 Rahul Gandhi in Lok Sabha
Congress leader Rahul Gandhi on Tuesday alleged that the Agniveer scheme didn't come from the Army but was "coerced" by National Security Advisor (NSA) Ajit Doval, Home Ministry and the Rashtriya Swayamsevak Sangh (RSS)."People talked about the Agniveer scheme but the youth of India pointed out them being asked to leave after four years.
The retired senior officers said that Agniveer Yojana came from RSS and Home ministry, and not from the Army," he said in the Lok Sabha.
The Congress leader said that National Security Advisor (NSA) Ajit Doval "coerced the scheme on the Army.
"Retired officers said that if people are being given arms training and then asked to go back to society, it will lead to violence. They (retired officers) have in their mind that Agniveer scheme didn't come from the Army and that NSA Ajit Doval coerced the scheme on Army," he added.
The Wayanad MP also alleged that the farmers had not got money under the PM-BIMA Yojana.
Viral News: Virat Kohli loses phone, but why is Zomato being targeted on Internet?
"We ask youth about their jobs, many said they are unemployed or drive Uber, farmers talked about not getting money under PM-BIMA Yojana, their land being snatched away while tribals talked about tribal bill," Gandhi said.Further questioning the President's address, Rahul Gandhi said, "Words like inflation and unemployment were not there in the President's address."
Talking about the recently concluded Bharat Jodo Yatra, he said "During Bharat Jodo Yatra we heard people's voices while we also kept our voices. We talked to children, women, elderly during the yatra," he added.