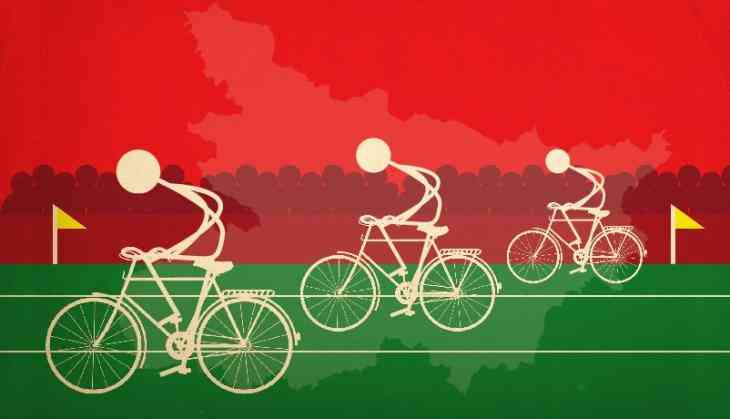 Hoping to repeat the Gorakhpur and Phulpur feat, the Rashtriya Lok Dal will join the united Opposition to contest the upcoming bypolls to two seats in Uttar Pradesh against the BJP, an RLD leader said.
RLD vice-president Jayant Chaudhary held close to a three-hour long meeting with SP chief Akhilesh Yadav in Lucknow yesterday. An understanding was reached that both the parties would jointly contest the May 28 by-elections to Kairana Lok Sabha and Noorpur Assembly seats, RLD spokesperson Anil Dubey told PTI.
A broad understanding has also emerged that the coming 2019 Lok Sabha elections should be contested together by all Opposition parties, Dubey added.
The Samajwadi Party had caused a major upset in the Gorakhpur and Phulpur Lok Sabha by-elections recently, wresting both the prestigious seats -- vacated by Yogi Adityanath and Keshav Prasad Maurya after becoming the state chief minister and deputy chief minister respectively -- with the Bahujan Samaj Party extending support to its candidates.
The victory had shown a way to the Opposition to come together for countering the BJP's victory march, especially in the run-up to the general elections, due to be held in 2019.
As far as the Kairana seat is concerned, where the RLD was keen to field Jayant Chaudhary in the bypoll, the party is understood to have agreed to extend support to a Samajwadi Party candidate, whereas it will field its candidate in Noorpur, a senior RLD leader said.
A formal announcement in this regard is likely to be made in a day or two, he added.
Before making an announcement, the SP and RLD are expected to apprise BSP chief Mayawati -- the other alliance partner -- regarding the names of the candidates, the RLD leader said, adding that all the Opposition parties must be kept united in order to counter the saffron challenge.
Though BSP has already declared that it would not take active part in any by-election, Mayawati will be consulted on the matter, as all the parties want to keep things clear among themselves in order to ensure the longevity of the alliance.
The Kairana and Noorpur seats fell vacant following the deaths of BJP lawmakers Hukum Singh and Lokendra Singh. Hukum had won the Kairana Lok Sabha poll in 2014 by getting 5.65 lakh votes. His closest rival, SP's Nahid Hassan, managed 3.30 lakh votes.
In the state Assembly elections last year, BJP's Lokendra won the Noorpur constituency. He got 79,000 votes, while SP candidate Naim-ul-Hassan managed 66,436 votes.
Kairana Lok Sabha seat has around 17 lakh voters. They include around three lakh Muslims, four lakh backward castes (Jat, Gujjar, Saini, Kashyap, Prajapati, and others) and about 1.5 lakh Jatav Dalits.]
The nomination process for the two seats are currently underway.
(PTI)