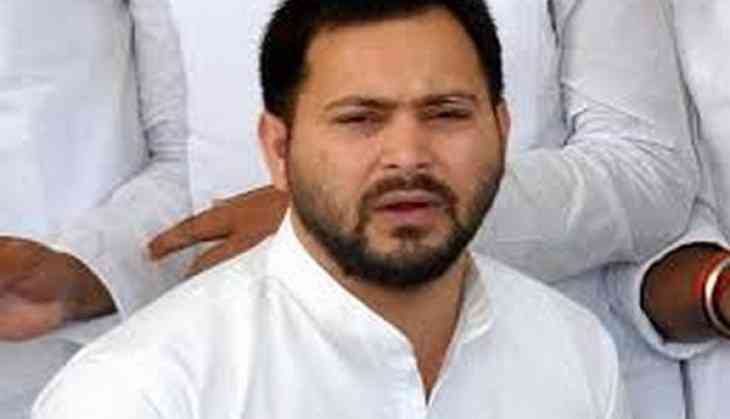 Rashtriya Janata Dal (RJD) leader Tejashwi Yadav on Saturday urged all the Opposition parties to come together in order to defeat in-power Bharatiya Janata Party (BJP) government in upcoming 2019 general elections.
Tejashwi claimed that the BJP won't be able to come back to power again if all Opposition parties will stand united.
In the latest example of the grand alliance, various Opposition parties including Congress, RJD, Aam Aadmi Party (AAP) and Communist Party of India among others on Saturday held a sit-in protest followed by a candle march in the national capital against the deteriorating law and order situation in Bihar.
Talking about the same in an exclusive interview with ANI, Tejashwi said, "It is good that parties are coming together. Something like this earlier happened during the oath ceremony of Karnataka Chief Minister HD Kumaraswamy. This is our first priority. We don't know what will ultimately happen. But we will try to bring everyone on one platform. The BJP will not come to power again if 'Mahagathbandhan'(grand alliance) is done. It is our priority to save our Constitution."
When asked as to who will lead the grand alliance, the RJD leader said, "All the senior leaders of the country will have to decide this. If the senior leaders of different parties will sit and talk over this then I am sure they will come up with a solution. But first, all of them need to come together. The Congress is the biggest Opposition party and Rahul Gandhi has an important role to play. All the senior leaders should sit together and talk about this."
The RJD has been attacking the Bihar government and demanding chief minister Nitish Kumar's resignation ever since the Muzaffarpur shelter home rape came to light.
On July 24, as many as 11 employees of the girls' shelter home were arrested for allegedly sexually harassing the inmates.
(ANI)