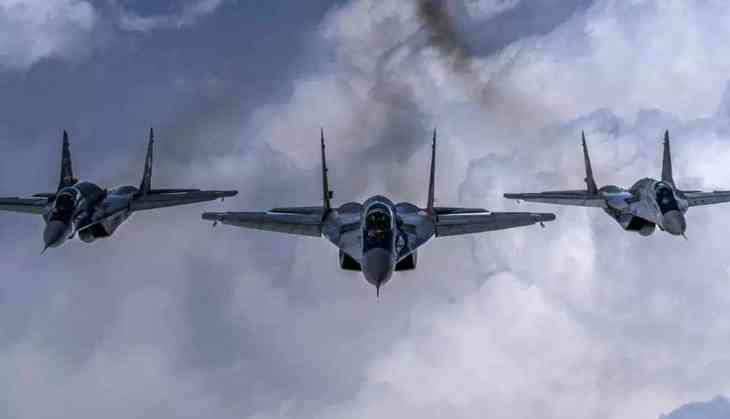 The 74th Republic Day parade witnessed an exhibition of India's military strength and a plethora of cultures from across the country.
The Indian Air Force put on display its array of vintage and modern aircraft comprising the Rafale jets, Sukhois, Apaches and Jaguars in the much-anticipated Fly-Past.
Though the cloudy skies played a major spoiler for spectators on the ground at the Kartavya Path, videos put out by the IAF of the jets in action show how the aircraft created these formations mid-flight.
1. The Trishul formation comprised three Sukhoi-30 MKI air superiority fighters:
Trishul formation comprising three Su-30 MKI air superiority fighters. pic.twitter.com/KGOiLWGD13

— HQ Western Air Command, IAF (@hqwaciaf) January 26, 2023
2. Six Jaguar Deep Penetration Strike Aircraft created the Amrit formation:
Amrit Formation comprising six Jaguar Deep Penetration Strike Aircraft of the IAF pic.twitter.com/a2GL7GdfCQ

— HQ Western Air Command, IAF (@hqwaciaf) January 26, 2023
3. The Bheem formation comprised a C 17 Heavy-Lift Transport aircraft flanked by two Sukhoi 30 MKI Air Superiority fighter jets:
Bheem Formation comprising a C 17 Heavy Lift Transport aircraft flanked by two Su 30 MKI Air Superiority fighters. pic.twitter.com/jG9QdgRgWl

— HQ Western Air Command, IAF (@hqwaciaf) January 26, 2023
4. Four Rafale multi-role fighter jets and a AEW&C created the Netra formation:
Netra Formation comprising a AEW&C - Netra in the center flanked by four Rafale multi role fighters. pic.twitter.com/KfHQOHZ4GQ

— HQ Western Air Command, IAF (@hqwaciaf) January 26, 2023
5. Vajraang formation comprised a C 130 Super Hercules Transport Aircraft in the center, flanked by two Rafale multi-role fighters on either side:
Vajraang formation comprising a C 130 Super Hercules Transport Aircraft in the center flanked by two Rafale multirole fighters on either side. pic.twitter.com/7nb5c7pGYn

— HQ Western Air Command, IAF (@hqwaciaf) January 26, 2023
6. Baaz formation comprised three Mig 29 Multi-role fighters:
Baaz Formation comprising three Mig 29 Multirole Fighters. pic.twitter.com/GY7MNngmDT

— HQ Western Air Command, IAF (@hqwaciaf) January 26, 2023
Also Read: Republic Day Parade kicks off with Egyptian Army contingent's march on Kartavya Path
Also Read: Republic Day 2023: History, significance of January 26