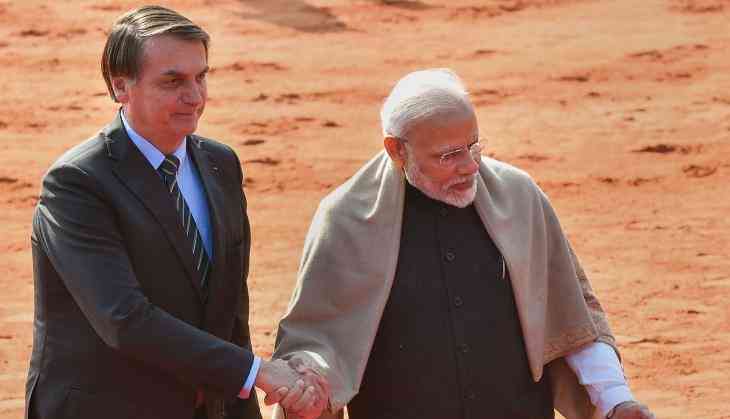 India will have Brazilian President Jair Bolsonaro as the chief guest this year, who has arrived in India on a four-day visit beginning from today.
His visit also aims to 're-energize' the bilateral strategic partnership between India and Brazil by boosting trade and investment.
The Brazil president had agreed to visit India when Prime Minister Narendra Modi had met him at Brazil, Russia, India, China, and South Africa (BRICS) Summit in November 2019.
After, President Fernando Henrique Cardoso(1996) and Lalu da Silva (2004), Bolsonaro becomes the third Brazilian president to serve as Chief Guest on India's Republic Day.
Who is Jair Bolsonaro?
The 64-old Brazilian President stocks rose in 2014 when his country was undergoing an economic crisis. The far-right politician and the retired military officer had joined the anti-corruption movements. Later, he rose to the top-level leader of the country.
He was elected to power on the Rio de Janeiro city council in 1989. He also served as Federal deputy for Rio de Janeiro from 1991 t02018.
Bolsonaro, known as Brazilian Donald Trump, won a landslide victory in the Presidential Elections and took oath as President of Brazil on January 1, 2019.
This is his first visit to India.
In November 2019, PM Modi met Bolsonaro at the 11th edition of the BRICS Summit in Brasilia.
Why Bolsonaro's visit important for India?
The former military officer often quoted controversy for his statements. India's announcement to make him as the chief guest raised several eyebrows. Despite all the controversy and criticism, India has chosen him as the chief guest at the 71st Republic Day parade.
However, India has given several reasons for inviting him as the R-day parade guest.
Strategic reasons have been dictated India's decision to invite Bolsonaro as the R-Day parade chief guest. The invitations are based on the relations between the two countries, not his personality.
Brazil is the largest Latin American country with huge resources of natural products including oil and gas.
Last year India has invited African President and this time it has invited another BRICS nation as the R-Day guest.
As per the Ministry of External Affairs, India and Brazil have shared dreams of enhancing economic partnership an common vision and goals over democratic values. The trade relationship between the two countries has been involved.
India and Brazil are also part of many other platforms apart from BRICS.
Also Read: Republic Day 2020: Twitter launches tricolour India Gate emoji to celebrate 26th January