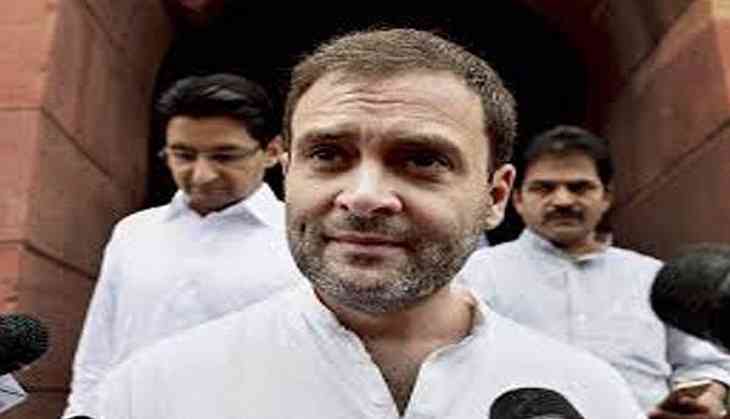 Raman Singh is involved in 'Panama', but no action against him: Rahul
Congress vice president Rahul Gandhi on Saturday hit out at the ruling National Democratic Alliance (NDA) and said Chhattisgarh Chief Minister Raman Singh and his family's name is also involved in the Panama Papers, but no action has been taken against them.
"Pakistan Prime Minister Nawaz Sharif had to resign as his name was in Panama papers, Chhattisgarh Chief Minister and his family's name was also in it, but no action has been taken against them," said Gandhi while addressing a rally here.
Rahul said the prime minister makes tall claims to curb corruption in the country, but cannot see corruption of Chhattisgarh Chief Minister.
He even targeted Prime Minister Modi for November 8, 2016, decision of demonetisation and said demonetization created a chaos in the country, leading to loss to the small scale businessmen and framers.
"I met small sector businessmen of the state, they asked me for help. They said that BJP (Bharatiya Janata Party) and RSS (Rashtriya Swayamsevak Sangh) have destroyed them, first they brought demonetization and now they have introduced GST (Goods and Services Tax)," he said.
He alleged that since the the NDA government came to power at the Centre, unrest has started in several states, including in Jammu and Kashmir.
The Congress leader even accused the NDA government of changing the rules of Chhattisgarh as per its convenience and benefit.
"We want you (tribals) to get benefit of your land and forest not anyone else. We want to protect the right of the people. Why the prime minister is trying to snatch the land of the people? He is doing so that he can give the land, mines to industrialists," Gandhi alleged.
Earlier on Friday, Rahul hit out at the BJP and alleged that the saffron party has time and again lied to the people of Chhattisgarh and used them for their benefits just to come to power.
"Just to come to power, the BJP plotted scams in Chhattisgarh, killed the tribal people, closed the small-scale industries, and killed the Dalits. They didn't spare anyone. They did all these things just to come to power," Gandhi said, while addressing a gathering of party workers and leaders in Bastar.
Gandhi said that BJP leaders speak so 'loudly' that even their lies seem to be the truth.
Chhattisgarh will go on polls to elect members from the 90 constituencies in the state next year.
-ANI