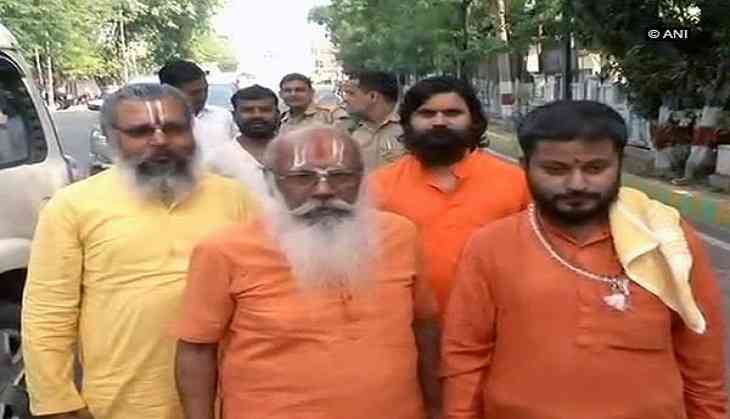 A group of priests who met Uttar Pradesh Chief Minister Yogi Adityanath on Thursday said the latter has assured that a Ram Temple will be built in Ayodhya.
"We had a dialogue with the Chief Minister (Adityanath) about the development of Ram temple and he has assured us that it will be constructed soon," Mahant Suresh Das told reporters here after meeting the Chief Minister.
Prior to the meeting, Das had claimed that if the matter of constructing the Ram Temple was not taken up seriously, there may be a subsequent impact on the 2019 general elections.
"Matter of the (Ram) temple will have to be taken seriously. If this isn't taken up, we'll see what to do in 2019," he told ANI.
On a related note, the Supreme Court on May 17 had adjourned the Ayodhya-Babri Masjid land dispute case.
The next hearing will be held after summer vacation.
The apex court is hearing 13 appeals filed against the 2010 judgment of the Allahabad High Court that mandated a three-way division of the disputed site in Ayodhya.
It earlier dismissed all the 32 intervention petitions, including applications of filmmakers Shyam Benegal and Aparna Sen, and journalist Teesta Setalvad, in the case.
During the previous hearing, a bench, comprising of Chief Justice of India (CJI) Dipak Misra, Justices Ashok Bhushan and Abdul Nazeer, had directed the registry not to entertain any intervention application in the Ayodhya case.
The top court had also rejected the intervention plea of Bharatiya Janata Party (BJP) leader Subramanian Swamy in the matter.
On May 2, the Supreme Court even refused to give an urgent hearing to a mentioning by Swamy, seeking a direction to perform puja at the disputed site at Ayodhya in Uttar Pradesh.
The Babri Masjid, built by Mughal emperor Babur in Ayodhya in 1528, was, on December 6, 1992, demolished by Hindu Karsevaks, claiming that the mosque was constructed after demolishing a Ram temple that originally stood there.
(ANI)