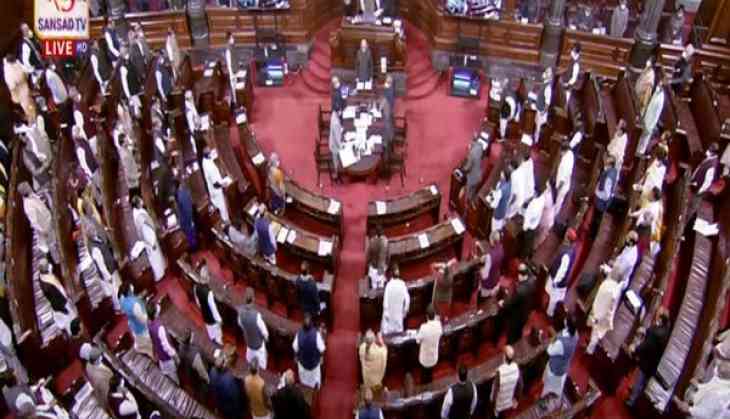 Rajya Sabha was adjourned once again amid sloganeering by the opposition on Wednesday to meet again at 11 am on April 3.The Upper House resumed after the first adjournment earlier in the day, soon after the proceedings began at 11 am.
The House was earlier adjourned till 2 pm. Earlier today, Lok Sabha was adjourned to meet again on April 3 at 11 am amid sloganeering by the opposition in the Lower House in the ongoing Budget Session of the Parliament. The opposition MPs raised slogans inside the House demanding JPC into the Adani-Hindunberg issue.
Lok Sabha was earlier adjourned in the day soon after commencing at 11 am to meet again at 12 noon. The House was adjourned again after nearly half an hour. TMC MPs staged a protest against the Centre at the Ambedkar statue in the Parliament seeking PM Narendra Modi's reply on the Adani row among other issues.
Congress has been demanding the constitution of a Joint Parliamentary Committee over the Adani Group issue and has also been leading the charge of the protest against Rahul Gandhi's disqualification as MP from Lok Sabha.
Meanwhile, Congress and other Opposition parties are contemplating moving a no-confidence motion against Lok Sabha Speaker Om Birla next week on the ground that opposition members are not being allowed to speak, the sources said on Tuesday. As per the sources, the proposal was kept in a meeting of Congress MPs.
"Opposition parties may bring a no-confidence motion against Lok Sabha Speaker Om Birla on Monday. The proposal was kept in a meeting of Congress MPs. Congress is talking to other Opposition parties in this regard," the sources told ANI.
The trigger for the development came following the notification disqualifying Congress leader Rahul Gandhi, a day after his conviction in a defamation case and claims that the Opposition was not getting a chance to raise the Adani issue.
However, it needs the backing of at least 50 members to move a no-confidence motion against the Speaker. It is important to note that for the no-confidence motion to be moved, the House has to function. Meanwhile, in solidarity with Rahul Gandhi and against his disqualification, Congress MPs, leaders and workers staged a 'Loktantra bachao mashal shanti march' near Red Fort where the police detained several party leaders and workers.
Congress General Secretary, KC Venugopal alleged that the protestors were stopped everywhere. "You should see the plight of democracy in the country. We are doing a peaceful torchlight march. Yesterday we discussed this with the police and commissioners and they agreed. Today, they stopped our workers everywhere," Venugopal said.
Also Read: Karnataka Assembly elections to be held on May 10, counting on May 13