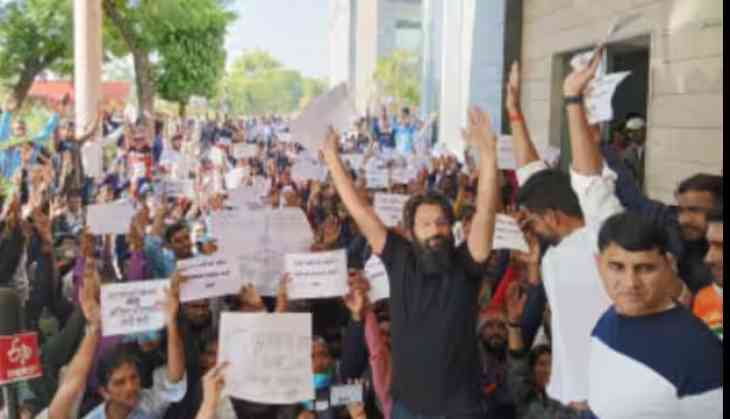 youths protested in Jaipur
Unemployed youths gheraoed the office of the Staff Selection Board on February 6 in Jaipur. The protesters, under the leadership of Rajasthan Unemployment Association president Upen Yadav, demanded that the results of various recruitment exams be announced promptly.
In addition to calling for the results, they also demanded the arrest of the person responsible for the teacher recruitment examination paper leak case and asked the government to make provisions for life imprisonment for paper leaks in the next Assembly session.
The Rajasthan Unemployment Association also put forward other demands on behalf of the state's youth, including the announcement of more new recruitments in all departments.
Also Read: Rajasthan: Government flats available for rent for Rs 300/month
After the protest, the delegation led by Upen Yadav handed over a memorandum to the Staff Selection Board chairman. The chairman assured protesters to put forward their demands.
The recent paper leak incident in the teacher recruitment has anguished youths who were preparing for recruitment exams. Following the paper leak incident, the state government cancelled the exam and arrested accused persons in connection with the case.
On February 3, The Leader of the Opposition, Gulab Chand Kataria slammed Chief Minister Ashok Gehlot-led government questioning the engagement of private agencies for conducting the REET examination.
The Rajasthan Government took stringent action against accused persons indulged in the paper leak.
Earlier, the enforcement wing of Jaipur Development Authority (JDA) demolished illegal portions of a residential building belonging to Bhupendra Saran whose name had appeared in the grade-2 teacher recruitment examination paper leak case.
Last month, the JDA demolished parts of a five-storey building run by a coaching centre operator Suresh Dhaka, another accused in the case.