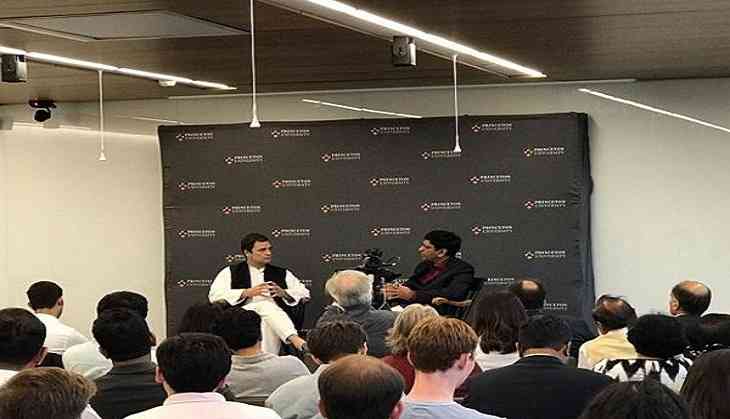 Rahul Gandhi in Princeton University (ANI)
Congress vice-president Rahul Gandhi has said that Prime Minister Narendra Modi's Make-in-India flagship programme is not garnering the right people.
Rahul, while addressing students at the Princeton University on 19 September, said that Prime Minister Modi's Make-in-India programme instead of targetting large business should concentrate on promoting small businesses.
While asserting that the National Democratic Alliance's (NDA) initiative should help small businesses prosper, Rahul said, "In my view, the highlight of the 'Make in India' concept and the target of the 'Make in India' concept should be different. So, the prime minister feels that target of the concept should be large businesses. I feel that the concept should be targetting the smaller businesses."
"The problem is not enough small medium businesses are getting access to the finance, physical system or political system. You have large companies that have a role, but then the small or medium companies should be turning in large companies and that's not happening. And that is the thing from where jobs are going to come from," he added.
Rahul Gandhi further said that there is need of focussing on the agricultural front.
"We also have to look into the agriculture sector; from there also, a lot of jobs can be produced," he said.
Congress vice-president Rahul Gandhi has said that unemployment is one of the major threats to the growth of the nation.
Rahul also said that New Delhi needs to work on providing adequate education and health facilities to all its people, irrespective of whether they are rich or poor.
Gandhi further averred the need to work on the lines of gender equality.
Rahul Gandhi's address comes days after his recent address at the University of California, Berkeley, where, in his speech on 'India at 70', he reflected on contemporary India and the path forward for the world's largest democracy.
-ANI