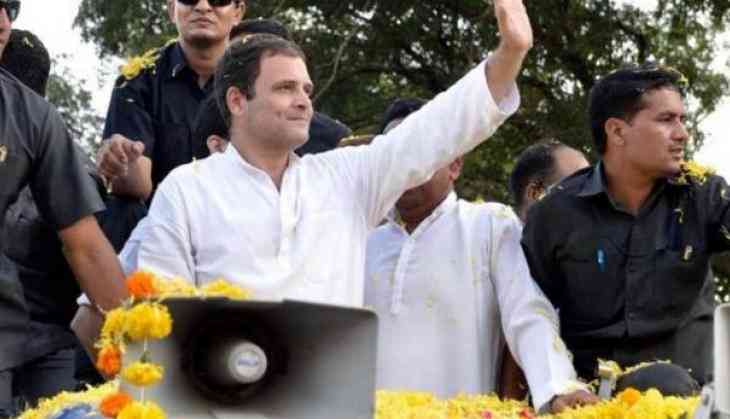 Congress president Rahul Gandhi will pay a two-day visit to poll-bound Rajasthan from Wednesday and hold road shows and public meetings in Kota, Jhalawar and Sikar districts which together have 18 assembly seats.

In the first leg of his visit, Gandhi would cover Hadauti region, comprising Kota, Jhalawar, Baran and nearby areas which had been rocked by a large number of farmers' suicide, said state Congress president Sachin Pilot.

In the second leg of his visit, he would be in Sikar district, he said. Sikar is a part of the Shekhawati region dominated by farmers.

Gandhi will address Wednesday his first rally in Jhalawar, the home turf of Chief Minister Vasundhara Raje, and follow it up with a nearly 100-km road show from Jhalawar to Kota, where he will stay at night.

Gandhi will address a state convention of Mahila Congress at Kota on Thursday morning, after which he would fly to Sikar to address a 'sankalp' rally, said Pilot.

"The Congress is well placed in Jhalawar where I and Leader of Opposition Rameshwar Dudi undertook 'kisan nyay yatra' 10 months ago. Gandhi's visit to Jhalawar will give a boost to the party there," Pilot added.

Pilot claimed the farmers in both the region are facing distress.

Almost half of the farmers' suicide occurred in that region only and there is resentment among them against the chief minister and the government, Pilot told PTI.

Chief minister Raje represents Jhalrapatan assembly constituency in Jhalawar while her son Dushyant Singh is the member of Parliament from Jhalawar-Baran.

Jhalawar shares its border with Madhya Pradesh, which too is going to polls on November 28.

In Rajasthan, which is going to polls on December 7, the Congress president has already conducted meetings in Jaipur, Dungarpur, Bikaner and road shows in Jaipur, Bharatpur, Dholpur and Dausa.
-PTI