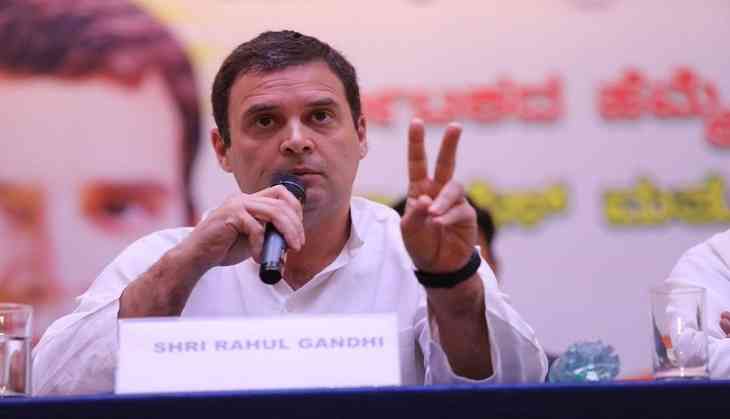 With only a few hours left for campaigning for the upcoming Karnataka Assembly elections, Congress President Rahul Gandhi on Thursday stated that his party fought the election campaign on fundamental issues, while the Bharatiya Janata Party (BJP) restricted itself to making personal attacks.
Addressing the press along with Karnataka Chief Minister Siddaramaiah and other senior party leaders here, Gandhi said, "I have been travelling around Karnataka for a few months now, we all stood together and fought the campaign on the fundamental issues. We have prepared a manifesto which is truly voice of the people, but our opposition has restricted itself to making personal attacks on the Chief Minister, on (Mallikarjun) Kharge ji and myself, and other leaders."
Gandhi alleged that Prime Minister Narendra Modi refrained from speaking on issues of atrocities against Dalits and women, and rather chose to discuss bullet trains and others non-fundamental issues.
"We had said that Dalits are being beaten up and oppressed. When Rohith Vemula is killed Modi Ji doesn't say a word. When Dalits are killed and humiliated in other parts of India, Modi Ji doesn't say anything. Congress will defend the rights of Dalits and raise this issue," Gandhi said.
"Atrocities against women is absolutely a political and a national issue. Mr Modi likes to discuss bullet train and other issues but does not like to discuss fundamental issues," he added.
Gandhi also claimed that half of the BJP's manifesto was copied from the Congress', which reflected "a lack of seriousness among them about what they want to do for the state."
He also expressed confidence in winning the elections.
The election in Karnataka will be held on May 12 in 223 constituencies, out of 224 of the Karnataka Legislative Assembly, while the counting of votes and announcement of results will take place on May 15.
The election for one constituency has been postponed following the death of B.N. Vijay Kumar, Jayanagar BJP candidate.
Campaigning for the elections will end at 5:00 p.m. later in the day.
(ANI)