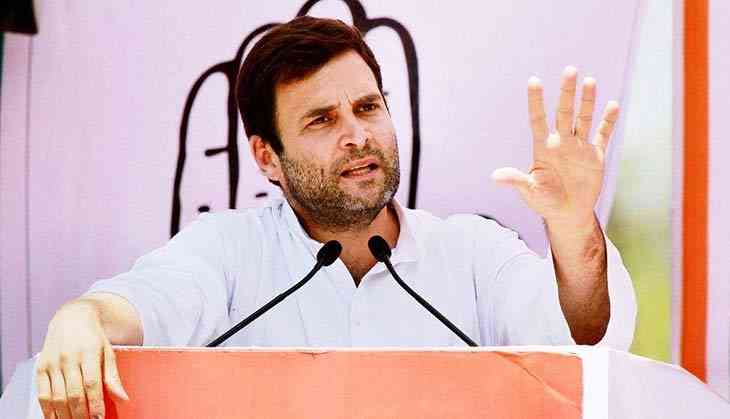 Rahul Gandhi's dig at Arun Jaitley
In yet another dig at Finance Minister Arun Jaitley, the Congress vice-president Rahul Gandhi has again taken a swipe over demonetisation and the Goods and Services Tax (GST), saying that the Indian economy was in the "ICU" because of the two reforms.
Gandhi continued his attack by saying, "Dr Jaitley, the economy is in the ICU because of note ban and GST".
He also tweeted a jingle, "Aap kehtey hai aap kissi sey kum nahi/ magar aapki dava mein dum nahi (You claim you are no less than the others, but your medicines have no strength)."
डॉ जेटली, नोटबंदी और GST से अर्थव्यवस्था ICU में है।

आप कहते हैं आप किसी से कम नहीं,
मगर आपकी दवा में दम नहीं

— Office of RG (@OfficeOfRG) October 26, 2017
Yesterday, Gandhi took a jibe in filmy way.
"Dear Mr Jaitley, May the Farce be with you," tweeted the 47-year-old Congress leader, a witty take on the cult phrase from Star Wars.
On Monday, Mr Gandhi said the new national tax GST is the "Gabbar Singh Tax" after the iconic villain in Bollywood blockbuster Sholay. A villain that "covets people's earnings," he explained a day later.
Dear Mr. Jaitley, May the Farce be with you. pic.twitter.com/Dxb5jFCaEa

— Office of RG (@OfficeOfRG) October 25, 2017
Here is how people reacted on Twitter after Rahul's Tweet:
इकॉनमी ICU में है ऐसा इंसान बोल रहा है जिसकी पार्टी २०१४ से कोमा में है

इतनी फ़्लॉप पे फ़्लॉप पर्फ़ॉर्मन्स तुषार कपूर ने भी नहीं दी होगी

— Office of Sarcasm (@whsitleblower) October 26, 2017
Aaj jitne azadi s aap bol rha h.. wo adhikar b aap ko Congress n hi diya h...

— Yogesh Pandey (Alok) (@alokpandey451) October 26, 2017
ना सिर्फ डाक्टर जेटली की दवा नाकाम है बल्कि इन्होंने नोटबंदी से अर्थव्यवस्था की 'Oxygen' भी छीन ली है।

— Fairoz Khan (@Fairoz_JK) October 26, 2017