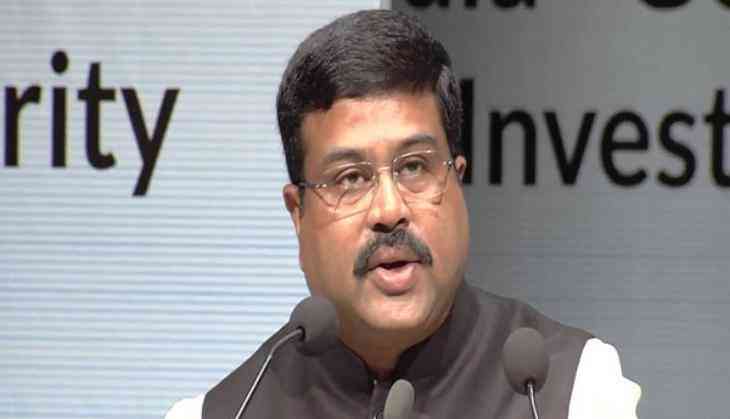 Union Petroleum and Natural Gas Minister Dharmendra Pradhan on 23 October declared Congress Vice President Rahul Gandhi as a frustrated human being.
He was replying to a question about Rahul Gandhi's criticism of Prime Minister Narendra Modi and the government's policies during his recent three-day tour of Gujarat.
Pradhan said, "Rahul Gandhi has become frustrated. His family's three generations have ruled this nation for decades and we are in power for the last three years. If there are problems in this country, then who is responsible - who ruled for decades, or who are those in power for the last three years?"
He further said the Congress is being envious of the development work that is being done by Prime Minister Modi in the country.
"A lot of development has happened in Gujarat during the last 20 years and the Congress is jealous because of that development work. Congress didn't do anything and only befooled people. I can only say that may god give wisdom to envious people," Pradhan said.
Addressing a rally at Devgadh Baria on October 11, Rahul launched a scathing attack on Prime Minister Modi and the Vijay Rupani-led Bharatiya Janata Party (BJP) government in Gujarat.
He claimed that 30 lakh youth were unemployed in Gujarat.
"Education's goal is to provide employment. And the Gujarat government charges for education, but doesn't provide jobs," Gandhi said.
Rahul also alleged that the waters of the River Narmada are being given to the country's top ten industrialists.
"They (state government) snatched your land, didn't give you compensation, baton-charged you and gave your water to the industrialists. This is Gujarat model," Rahul asserted.
He also targeted Prime Minister Narendra Modi by saying he didn't think of farmers and labourers when imposing demonetisation on November 8 last year.
"Had he talked to farmers, labourers and small shopkeepers, then they would have told him that their most of the dealings happen in cash and not through cheque," Rahul said.
The Congress leader also alleged that Prime Minister Modi helped 'real thieves' to convert their black money into white during demonetisation.
The Gandhi scion continued his attack on Prime Minister Modi and alleged that the Centre implemented the Goods and Services Tax (GST) to "literally finish small traders."
An indirect tax, the GST was introduced on July 1, which replaced multiple cascading taxes levied by the central and state governments.
Gandhi wants to unseat the ruling BJP in Gujarat. The last Congress government in Gujarat was led by Chhabildas Mehta from February 17, 1994 to March 13, 1995.
The 14th legislative assembly election in Gujarat is to be held by the end of 2017 as the term of 13th assembly ends on 22 January, 2018.
-ANI