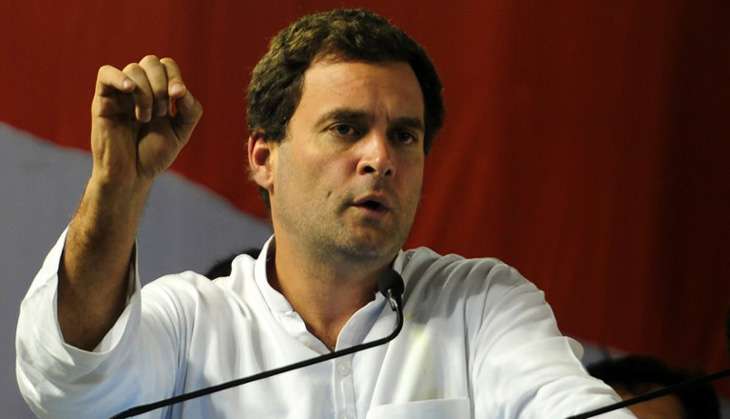 Congress Vice-President Rahul Gandhi on 29 November condemned the attack on an Army base camp in Jammu and Kashmir's Nargrota town, saying that the terror will never deter India from its path of peace and progress.
"Strongly condemn the attack on Nagrota army camp.Terror will never deter us frm our path of peace&progress.We owe this to our brave martyrs," Gandhi said in a tweet.
Meanwhile, coming down heavily on the Centre former chief minister Omar Abdullah asserted that regardless of what the Bharatiya Janata Party (BJP) said, Pakistan is no more isolated internationally today than it was six months ago.
Attacking the Narendra Modi-led Government, Abdullah stated that terrorists were clearly no more deterred from attacking India's Armed Forces now than they were prior to the surgical strikes conducted in September.
"So on a day on which 7 of our brave soldiers lost their lives to terrorist bullets the government must explain its Pakistan policy to nation. It's all very well to call people who question the govt line "Friends of Pakistan" but that's a poor excuse for a cogent, thought out policy," he said in a series of tweets.
Indian Army Chief of Staff General Dalbir Singh briefed Prime Minister Narendra Modi and Defence Minister Manohar Parrikar on the deadly terrorist attack on an army artillery unit in Nagrota, in which seven defence personnel lost their lives.
Earlier, two Indian Army officers and five jawans were killed in the attack, where a group of heavily armed terrorists disguised in police uniforms targeted an army unit located three kilometres from the Corps Headquarters.
Also Read: Nagrota terror-attack: Pakistan will only understand language of bullets, says BJP
The terrorists forced their entry into the Officers Mess complex by throwing grenades and firing at the sentries, the Army said in a statement.
In the initial counter action, one officer and three soldiers lost their lives. Following which, the terrorists entered two building which were occupied by families, Officers and men.
This led to a hostage like situation but it was quickly contained and thereafter, in a deliberate operation all were successfully rescued, which included 12 soldiers, two ladies and two children.
However, in this rescue attempt, one more officer and two jawans lost their lives bringing the total death toll to seven.
Also Read: Nagrota terror attack: Read how bravery of officers' wives avert major hostage crisis
Meanwhile, the bodies of three terrorists have been recovered and operations are in progress to sanitise the complete area.
Speaking to ANI here, Defence PRO Manish Mehta said that combing operations have been called off for now as it was night time and will be resumed at the crack of dawn on Wednesday.
-ANI
Also Read: Omar Abdullah asks govt to explain its Pak policy; Shiv Sena demands more surgical strikes