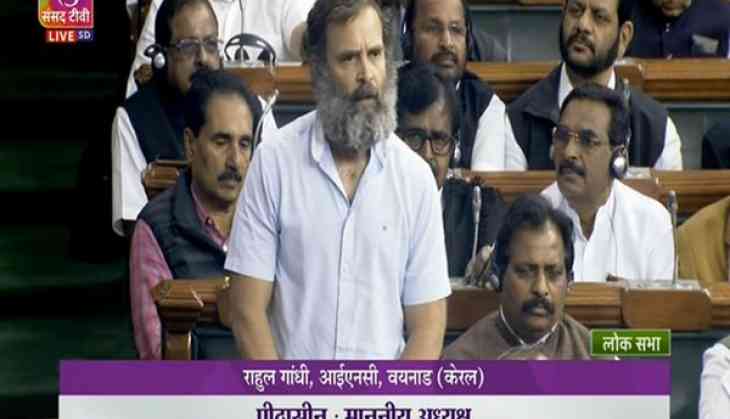 rahul gandhi in lok sabha
"Relationships begin many years ago when Narendra Modi was Gujarat's Chief Minister...one man stood shoulder to shoulder with PM Modi, he was loyal to the PM and helped Mr Modi construct the idea of a 'Resurgent Gujarat'. The real magic began when PM Modi reached the national capital in 2014," Rahul Gandhi said addressing the Lok Sabha.
Rahul Gandhi in his address said that during his Bharat Jodo Yatra from Kanyakumari to Kashmir, he talked to people of different age groups and people all across take the name of 'Adani'.
Viral News: Virat Kohli loses phone, but why is Zomato being targeted on Internet?
"From Tamil Nadu, Kerala to Himachal Pradesh we have been listening to one name everywhere 'Adani'. All across the country, it is just 'Adani, Adani, Adani'...people used to ask me that if Adani enters any business, it never fails," he said adding that the youth have asked him how has Adani's net worth risen multiple times.
"The youth has asked us that Adani who is now in eight to ten sectors, how is it that his net worth has risen from USD 8 billion in 2014 to USD 140 billion in 2022. It was only Adani who talked about bringing the apples of Kashmir and Himachal to the ports, airports, and even the roads we are walking on," he added.
Gandhi further alleged that the Modi government changed the rules which allowed only previously experienced firms to be involved in airport development.
"There is a rule who does not have prior experience in airports can't be involved in the development of airports. This rule was changed by the Government of India and Adani was given six airports," he said further claiming that India's most profitable airport Mumbai Airport was "hijacked" from GVK Industries using the CBI and ED and was given to Adani by the Centre.
Further attacking the industrialist and PM Modi, he said that despite the fact that Adani never made drones he got the contract for their manufacture when it was always HAL and other companies involved in the business.Rahul claimed that Adani holds zero experience in defence sector as well but he still got the contract for drone production after PM Modi went to Israel.
"Adani never made drones but HAL, and other companies in India do that. Despite that PM Modi goes to Israel and Adani gets the contract. Yesterday, the PM said at HAL that we hurled the wrong allegations," Rahul Gandhi further said.
"Earlier PM Modi used to travel in Adani's aircraft now Adani travels in Modiji's aircraft. This matter was earlier of Gujarat, then became of India, and now has become international. How much money did Adani give to BJP in the last 20 years and through the electoral bonds?" the Wayanad MP asked.