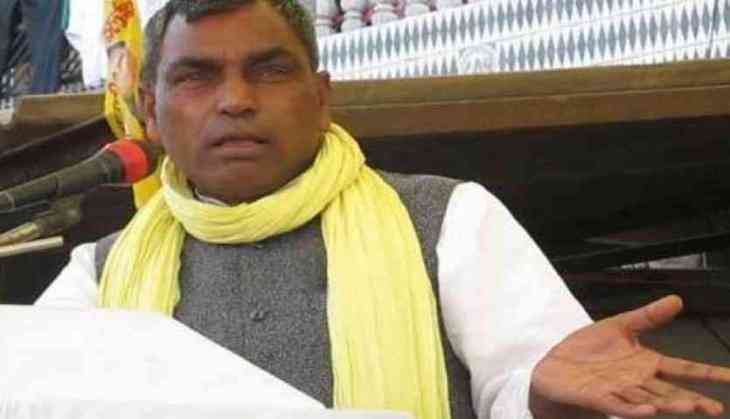 Protesters hurled tomatoes and eggs today at the home of Uttar Pradesh minister Om Prakash Rajbhar for saying that Rajputs and Yadavs consumed more liquor than others.
Youths, some of them wearing red caps, mobbed the minister's official residence in Hazratganj area here this afternoon, raising slogans and damaging his name plate.
Rajbhar made the remarks in Varanasi yesterday, while arguing against drinking.
"The maximum blame is put on Rajbhars, but the maximum liquor is consumed by Yadavs and Rajputs," he had said.
"This is their ancesteral business," he is heard saying on television. But he added that people from the his own Rajbhar and all other castes also drink.
"If you want to know the pain, ask any mother, sister or wife to whose homes their loved ones come drunk," he said.
Rajbhar, who heads the backward classes welfare portfolio in the UP Cabinet, is a leader of BJP ally, Suheldev Bharatiya Party.
He has courted controversy earlier with his criticism of the performance of the Yogi Adityanath government in the state.
In another controversial on drinking, he had said, "If someone offers you liquor, consume it but vote as per you discretion."
Police said nobody has been detained yet over the protests at the minister's home. "We are probing the matter," an officer said.
(PTI)