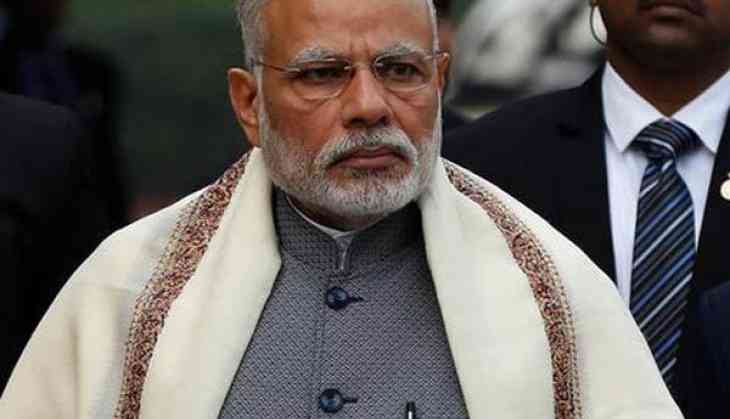 In an exclusive interview to ANI, Prime Minister Narendra Modi spoke about the importance of women empowerment in the country and said, "No country can progress if its women are not equal partners in the development process. Going a step ahead of women development, we are working towards women-led development. "
''Beti Bachao Beti Padhao', was among the first programmes that this Government launched aimed at addressing the issue of declining Child Sex Ratio and educating the girl child. 'Beti Bachao, Beti Padhao' has led to significant improvement in the Child Sex Ratio in various parts of India. It has taken the shape of a vibrant mass movement that is changing mindsets all over," the Prime Minister added highlighting his Government's vision on empowerment of women.
Talking about women holding important cabinet positions in his government, the Prime Minister said: "This is the first time in the history of independent India that we have two women in the Cabinet Committee on Security - the Minister of External Affairs and the Minister for Defence. Women have, for the first time, been inducted as fighter pilots in combat roles in the Indian Air Force."
Citing the objective of Swacch Bharat Abhiyan, he said: "Construction of toilets in million sunder Swachh Bharat Abhiyan both in rural and semi-urban areas augments women safety and security. Separate toilets for girls constructed in all government schools in mission mode will help reduce dropout of girl students."
He added : "The newly amended Maternity Benefit Act statutorily increases maternity leave to 26 weeks and makes it mandatory for every establishment that has more than 50 employees (whether male or female) to offer creche facilities. This will ensure that working women are not compelled to drop out of the workforce. Mission Indradhanush and Pradhan Mantri Matru Vandana Yojana is ensuring the good health of the mother and the child."
Highlighting the benefits of the Ujjwala scheme, the Prime Minister said, "Under the Ujjwala Scheme, free LPG connections have revolutionized the lives of poor women. It heralds freedom from smoky chulhas and persistent coughs. More than 5 crore LPG connections have been released to poor women so far."
Speaking on the financial inclusion of women, Prime Minister stressed that there is a sizeable and rapid growth in financial inclusion of women, which paves way for irreversible and institutional progress.
"Through the Jan Dhan Yojana, more than 16 crore accounts of women have been opened. We have not only focussed on financial inclusion but also financial empowerment of women. Thanks to the Pradhan Mantri MUDRA Yojana (PMMY) over 13 crore loans have been given of which more than 70% have been given to women. Under the National Rural Livelihoods Mission, there is a massive increase in access to credit by women SHGs. You would be glad to know that the Pradhan Mantri Awas Yojana gives preference to allotment in the name of the women in the family. This is a major step in furthering the dignity and empowerment of women," he said.
The Prime Minister also spoke about his government's tough stand with regards to ensuring gender justice. "This Government has never shied away from tough measures to ensure gender justice. The Triple Talaq bill is in response to a long standing injustice done to Muslim women in India. The Anti-trafficking Bill, that has just been passed by the Lok Sabha, attempts to address one of the most pervasive crimes affecting women and children, especially the most vulnerable."
He mentioned the new Haj policy, according to which for the first time women above the age of 45 years can go for the pilgrimage without a 'mehram', or a male escort. "This also is a harbinger of substantial change. I think all the points mentioned give a glimpse of this Government's consistent commitment to women empowerment. You can judge whether this is just a slogan or there is concrete action," Prime Minister said.
(ANI)