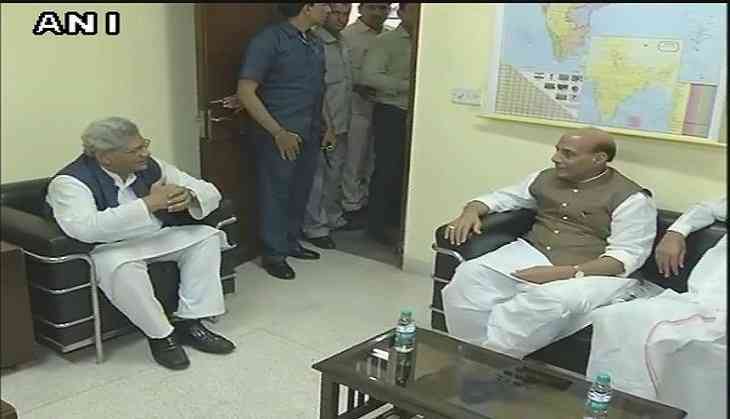 Responding to CPI (M) general secretary Sitaram Yechury branding the Bharatiya Janata Party (BJP) meeting with the opposition as a 'PR exercise', the Opposition on Saturday said the meetings are simply 'unnecessary', adding that it was a 'courtesy call'.
"Although it is good that the BJP formed a three-member committee to look into the presidential elections, it is not good that they came for the meeting without any mandate or names of possible candidates. The meeting was unnecessary, and was more out of courtesy that anything else," Janata Dal (United) [JD (U)] national spokesperson KC Tyagi told ANI here.
Backing his stance, Congress leader Tom Vadakkan said it is the decision of the Government hereafter, adding that the representatives at the meeting were part of a 'fact-finding committee'.
"It felt like it was a fact-finding committee who had called for the meeting. Whether it is useful; or not in the future cannot be ascertained now. It is upto the government to take a decision so that we can come to a consensus accordingly," he said.
Earlier, Yechury, who met with Union Home Minister Rajnath Singh and Union Information and Broadcasting Minister M. Venkaiah Naidu on Friday said the intent of the meeting was more like a 'PR exercise', since no names of suitable candidates were proposed by the BJP's committee.
"They did not come forward with any name. They said that they want our support. Support can be given to a particular individual. We want such a person who can uphold the Constitution. We would have certainly thought about such a person, but they did not suggest any name. So, there is nothing to think when they did not suggest any names," Yechury told ANI.
"They said they will hold consultations and come up with a name after three to four days. After three to four days, nomination will begin. They said the government wants our cooperation. There should be a base for that cooperation. We will think about it when they will suggest a name. The two ministers had come on behalf of the government without any name," he added.
Union ministers Rajnath Singh and Venkaiah Naidu also met Congress chief Sonia Gandhi at her residence to discuss matters related to next month's presidential elections.
Both of them have already spoken to Nationalist Congress Party's (NCP) Praful Patel and Bahujan Samaj Party's (BSP) Satish Mishra.
Naidu on Thursday spoke to Nationalist Congress Party (NCP) chief Sharad Pawar and Telugu Desam Party (TDP) chief Chandrababu Naidu over the same.
The TDP chief said his party will stand by Prime Minister Narendra Modi's decision in this regard.
As President Mukherjee's term comes to an end on July 24, the Presidential election will be held on July 17.
The Election Commission said the last date of nomination is June 28 and the counting of votes will be taken up on July 20.
President Mukherjee will demit office on July 25 and Vice President Hamid Ansari will complete his second tenure in August.
-ANI