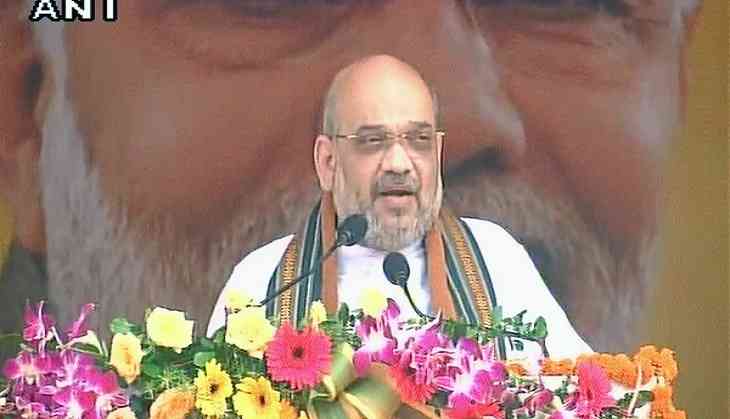 Bharatiya Janata Party (BJP) president Amit Shah on 16 September said that the former prime minister Atal Bihari Vajpayee had fulfilled the demand for a separate state of Jharkhand, and now Prime Minister Narendra Modi will help prosper the state.
"I would like to remind you all, that demand for a separate state of Jharkhand was fulfilled by Atal Bihari Vajpayee. It was created by him and now Modi Ji will help it prosper," Shah said while addressing a rally in Ranchi.
Hitting out at former United Progressive Alliance (UPA) government, Shah claimed that the eastern part of India was completely ignored by the last government, and it's only after the BJP came in the Centre development was seen in the state.
"After three years, I can see that the development has begun in the eastern part of India," said the BJP president.
As a testament to his claim, Shah compared the present Gross Domestic Product (GDP) with that of the UPA government.
He further claimed that Jharkhand's rank in GDP has jumped from 15-20 in the past to the second rank behind Gujarat, with an 8.6 percent growth rate.
"Raghuvar Das government has proved that changes can be brought about in 1000 days," Shah added.
Stressing on the development in Jharkhand, the BJP president said that Prime Minister Modi has begun sanction of Rs. 1000 crores to various districts of the state for the welfare of the tribal population.
The mining industry is also generating huge revenues, he added.
"Coal of Jharkhand has the potential to benefit entire India. The poverty here is slowly getting eliminated now," Shah said.
Jharkhand has a history of unstable government, where no other chief minister has been able to retain the office for 1000 days.
BJP government with Chief Minister Raghubar Das is the first one to get closer to the 1000 day-mark.
-ANI