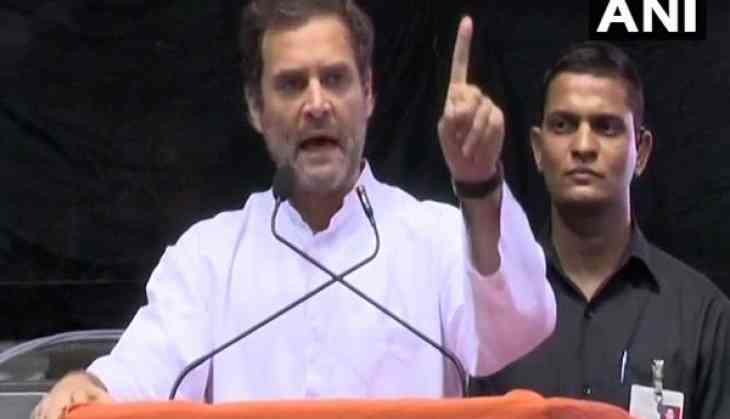 Congress president Rahul Gandhi on Tuesday lashed out at Prime Minister Narendra Modi for remaining tightlipped on crimes against women and children in the country.
Addressing at the 'Mahila Adhikar Sammelan' in Talkatora Stadium here, Rahul said, "The Prime Minister speaks on everything, but does not utter a word when crimes are committed against women in Uttar Pradesh and other Bharatiya Janata Party (BJP) ruled states. No action is taken against the accused if he is a member of their party."
Continuing his tirade against Prime Minister Modi, Rahul asserted that the former never said anything on the alarming rise of rape incidents.
"The PM doesn't utter a word on the incidents of rape. What happened against women in these four years is something, which didn't happen even in last 70 years," the Congress President said.
Taunting the BJP-led government on their 'Beti Bachao, Beti Padhao' initiative, Rahul said, "They talk a lot, but the Women's Reservation Bill is long pending. Congress told them clearly that the entire party will stand by them the day they decide to pass it. They said 'Beti Bachao Beti Padhao'. I fail to understand whose daughter do they want to save. The daughters need to be saved from these BJP MLAs."
Furthermore, Rahul blasted out at Prime Minister's Modi remark on MNREGA scheme, saying that millions of women in the country were benefitted from the programme.
"Millions of women benefitted from MNREGA. But Prime Minister Modi mocks this scheme in Parliament and claims no one benefited from it," he said.
Talking about women empowerment, Rahul underlined that the Congress was aiming to reserve representations to 50 per cent in all spheres. He urged all women in the country to come forward and contribute to the development of the nation.
Taking on the Rashtriya Swayamsevak Sangh (RSS) for its ideology on women empowerment, Rahul said, "The Congress has always welcomed women, unlike the RSS which has shut doors for women in the country forever. The ideology of BJP and RSS is that only the men will run this country and if it is anywhere that the women belong, it is at the back."
He added that there was no place for women in the country to join the RSS.
Rahul continued, "In RSS, a woman is not allowed to go. She could not go before, cannot go now and would not go forever."
Summing up, the Congress president said the ideologies of RSS, BJP and Prime Minister Modi ravaged the country.
Lauding women Chief Ministers for playing a big role in development and leadership, Rahul further said, "We've seen the work done by women Chief Ministers like Shiela Dikshit who transformed Delhi. We need women at every level of leadership within and outside the Congress Party."
--ANI