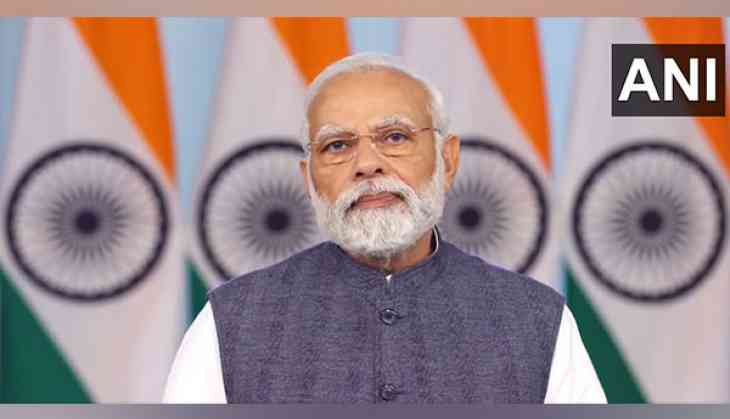 New Delhi: Prime Minister Narendra Modi on Saturday greeted the countrymen on the occasion of Akshaya Tritiya and Parshuram Jayanti. "Many many congratulations on Akshaya Tritiya. I wish that this auspicious festival associated with the tradition of beginning charity and auspicious work brings happiness, prosperity and good health in everyone's life," the Prime Minister tweeted in Hindi today.
In another tweet, PM Modi said, "Best wishes to all of you on Lord Parshuram Jayanti. I wish that by his grace everyone's life is full of courage, learning and discretion."
Parshuram Jayanti is also celebrated as Akshaya Tritiya which marks the day of the birth of Lord Parshuram. The sixth incarnation of Lord Vishnu, Lord Parshuram (literal meaning, Rama with an axe) descended on earth to save it from the barbarity of the Kshatriyas. The day is celebrated as Parshuram Jayanti in most parts of the country.
As per the Hindu calendar, Parashurama Jayanti falls on the Tritiya (third day) of 'Shukla Paksha' in Vaisakh. According to the Gregorian calendar, the day occurs in April or May.
Akshaya Tritiya is one of the most auspicious days celebrated by Hindus and Jains across the country.
The day is symbolic of good luck, success and fortune. Akshaya Tritiya is celebrated through prayer, almsgiving, and spirituality.
The day is considered t to be highly lucky for starting new businesses, making investments, and buying gold and real estate. In Sanskrit, the word 'Akshaya' means 'never diminishing'.
It is said that things that start on this day expand forever with fewer obstacles in their way, and that doing good deeds on this day will bring eternal success and fortune. Akshaya Tritiya 2023: History and Significance The occasion is celebrated on the third day of the Shukla Paksha in the month of Vaisakh.
According to the Gregorian calendar, this day falls sometime in April-May. It is on this day that both the sun and the moon are said to be at their planetary best alignment. The day is also known as 'Akha Teej' and is being celebrated on April 22 this year.
It is believed that tasks done on this auspicious day are blessed by divine powers and always prove beneficial. It is considered to be an auspicious day to bring home precious metals like gold and silver for prosperity. It was the day when the third of the four Yugas - Treta Yuga began.
Akshaya Tritiya 2023: Shubh Muhurat to buy gold
The shubh muhurat to buy gold starts from 7.49 am on April 22, 2023 (Saturday) to 7.47 am on April 23 (Sunday). There are multiple beliefs and reasons behind the ritual of buying gold or silver to mark this day.
People consider buying gold as 'shubh' or auspicious on this day, as it symbolises wealth and a valuable asset. People believe investing in gold on this day promises eternal fortune and never diminishing wealth.
Lord Kuber, the deity of wealth. On this day, Lord Kuber is believed to have chosen to serve as the treasurer of heaven. Worshipping Kuber on this day is said to bestow devotees with utmost success, wealth, and fortune.
Interestingly, the festival also marks the birth anniversary of Parashurama (6th incarnation of Lord Vishnu). It is also believed that Lord Krishna handed Draupadi a Patra (container) in which food appeared in abundance during the period when Pandavas were exiled to forests.
According to Hindu scriptures, Akshaya Tritiya also marks the start of the Kaliyug and end of the Dwapar yug. Apart from buying gold, people arrange Akshata, fast, and offer Naivedyam Thali to god. People, who fast for a day, prepare Akshata and offer it to Lord Vishnu to bring good luck to their families. Unbroken rice, turmeric, and kumkum are combined to make akshata. And it is believed that offering the Naivedyam Thali to Lord Vishnu will bring us his blessings.
The thali is mostly made up of milk and milk products. Milk and grains are used to make sweets, which are subsequently dedicated to the Lord. People who fast for a day prepare Akshata and offer it to Lord Vishnu to bring good luck to their families. Unbroken rice, turmeric, and kumkum are combined to make akshata.
(ANI)