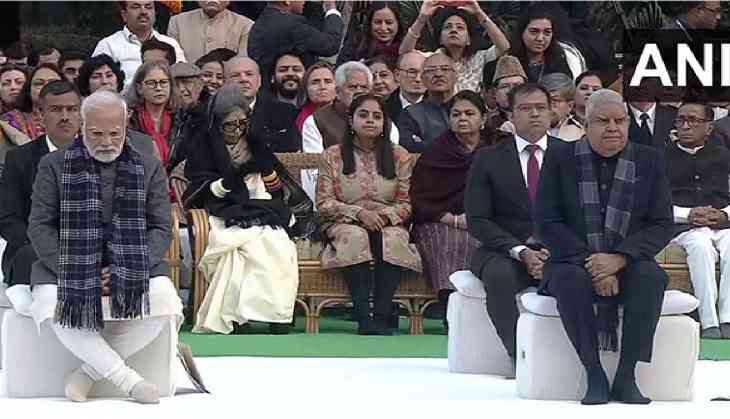 Prime Minister Narendra Modi and Vice-President Jagdeep Dhankhar on Monday attended a prayer meeting organised on Mahatma Gandhi's death anniversary at Gandhi Smriti in New Delhi.PM Modi was seen observing a silent prayer with his eyes closed as the gathering paid respect to Mahatma Gandhi.
The nation on Monday remembered Mahatma Gandhi on his death anniversary with President Droupadi Murmu and Prime Minister Narendra Modi paying floral tributes at Raj Ghat in the national capital here.
Vice President Jagdeep Dhankhar also paid tribute to Mahatma Gandhi. The Prime Minister said that the sacrifices of the martyrs will keep strengthening the country's resolve to strive for a developed India.
"I bow to Bapu on his Punya Tithi and recall his profound thoughts. I also pay homage to all those who have been martyred in the service of our nation. Their sacrifices will never be forgotten and will keep strengthening our resolve to work for a developed India," PM Modi tweeted.
Union Home Minister Amit Shah also paid tributes to Gandhi and said that he inspired the country to make it Atmanirbhar.
"Millions of salutes to Mahatma Gandhi on his death anniversary, who inspired us to make the country Atmanirbhar by following the path of indigenous and self-reliance. It would be a true tribute to Gandhiji to adopt his ideas of cleanliness, Swadeshi and mother tongue in the Amrit Kaal," Shah tweeted in Hindi.
Others who paid tributes to Mahatma Gandhi included Defence Minister Rajnath Singh, Lok Sabha Speaker Om Birla and Delhi Lieutenant Governor Vinay Kumar Saxena.
The leaders also attended Sarva Dharma Prarthana Sabha at Raj Ghat. In memory of Mahatma Gandhi's sacrifice and to honour his legacy, the Indian government declared January 30 as Martyrs' Day. Martyrs' Day, which is also known as Shaheed Diwas, is observed on January 30 every year in the country to pay tributes to the freedom fighters who sacrificed their lives in the service of the nation.